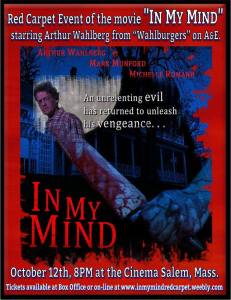 On Sunday October 12th, come to Cinema Salem in the North Shore of Massachusetts to see a new horror movie In My Mind starring Arthur Wahlberg, Mark Munford, and Michelle Romano. Tickets are fifteen dollars per person which will be available at the box office or can be purchased ahead of time online. Total Entertainment, a company based in Danvers, MA helped finance the film and will donate one meal for each ticket purchase to "Haven from Hunger" in Peabody. If you're unable to attend the premier you still have a chance to donate for a good cause. A Red Carpet Event will be held before the movie for photo opportunities and autograph signings. Then at 8PM the movie will be shown on the big screen for audience members to watch and enjoy.
The Brooks Boarding House has a past. The evil Harold Brooks (Arthur Wahlberg) murdered 3 children, who were placed in his care back in the 1970s. These children's spirits still linger in the mansion today, and this gives reason for the paranormal investigative TV show "America's Most Haunted" a reason to film their latest episode there.Since the show lacks ratings, they place an ad for a new team member, and the ad is answered by Tommy (Mark Munford), who joins the investigative team, against the better judgement of some of the others. Tommy believes he can communicate with the dead. But not only can he communicate with them, but he feels a special connection with the Harold Brooks incident, as he, himself, has lived in this house, since the days of Mr. Brooks…

Will Tommy improve the ratings and free the evil spirits that lurk within the Brooks Boarding House, or is it perhaps all… in his mind?
The topic of ghosts and spirits has always been debated throughout the centuries by many different people, countries, and cultures; and with a strong reaction coming out of this curiosity a large collection of books, songs, and movies have been created to stir anyone's imagination. "I do believe in ghosts and all that paranormal stuff," says Director Dimas Bardales, "What I truly believe in is the soul or spirit of someone. Having a troubled soul or spirit finding its way into someone's body is a freaky thing but I don't think that's how it works. But if it was a demon then that's another story. I feel this is what Harold Brooks was in the movie; He was a demon set out to corrupt and destroy everything in its way."
One day Producer Joel Greenberg watched a paranormal show on television and that's when he first became intrigued with this particular subject matter. After talking to a crew member that he knew who worked on a similar show the idea of In My Mind came to Joel which began to grow and formulate. The producer had Oscar Estrada, E.J. Gonzales, and Conrad Faraj write up a script for the movie and then got Richard Kraby to help finance In My Mind.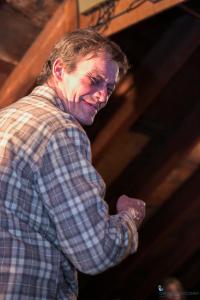 Joel Greenberg had met with Arthur Wahlberg during a film festival that was in Boston. He later contacted him and hired Arthur to play the role of Harold Brooks. "He's a fabulous guy, super nice, and just incredible with kids," says Joel, "I noticed that he had a great acting ability to portray the opposite of what he is in real life. I thought he would make a great  Harold Brooks and boy was I right!" Arthur had lots of fun with all of the kids while shooting the movie, putting his menacing role aside in between scenes of the filming process.
The Mansion for In My Mind was located in West Peabody near the area where Joel had grew up. The filmmakers looked into several different houses as possible locations for the movie from Gloucester to Cape Cod. In the end of their searching process the crew members liked the mansion in Peabody the most as they could get both exterior and interior shots for the movie at this specific location.
It was rough shooting the movie on a very small budget, especially with what the script demanded. A small crew was assembled that knew what they were doing and it helped out tremendously for this production. "I came into this project as an assistant director," says Dimas, "A week into filming we had trouble and hit a rough patch with some of our crew members not being able to finish the project due to personal issues. One of the members being the director at the time. I stepped up and took the challenge of completing the film as best as I could." Dimas was nineteen when working on this project and was balancing his freshman year of college majoring in film and digital video production. He handled the directing job well despite the amount of stress that escalated over all of his commitments and was able to see the task through.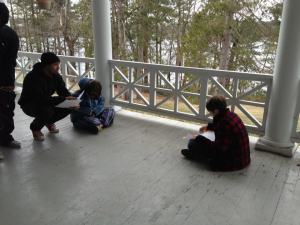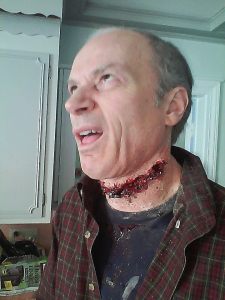 Even with the gruesome make up that the actors wore, the production of In My Mind had a lot more eerie events befall to people while shooting the movie. Rich Kraby's sister let him use her 65 T-Bird for the movie and was driving it to the shoot. He noticed that his phone started making strange sounds randomly while talking to people. It was pretty scary and continued for almost a year off and on and then finally stopped. He wasn't sure if spirits were trying to tell him something or not. A falling star was seen landing into the lake that was right behind the house that most of the movie was shot at. Right before that people on set were talking about falling stars.
While filming close to the lake someone had told the cast and crew that a woman had drowned in it many years ago and when they were shooting there was an unusual chill that came over most of the actors and crew members. The cinematographer said he had camped out in much worse conditions and he was so cold that it freaked him out and became very angry. He said that he could usually take the cold but this was unbearable. The cinematographer ended up quitting after 3 days. Then it was found out that the house that they filmed at was a funeral home where people embalmed dead bodies bringing more paranormal suspicions.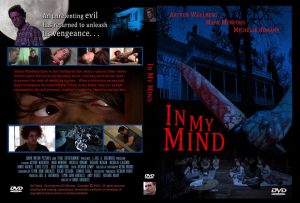 Despite the baffling omens that occurred In My Mind finished shooting and is now ready to be viewed by audience members, just in time for the Halloween season.
"I hope they find the story interesting, and a bit scary. It is meant to be a strange, play-with-your-head kind of film, with a couple harsh scenes that may leave some people's skin crawling." – Joel Greenberg
To learn more about the movie you can like their facebook page
And for tickets you can go to their website.