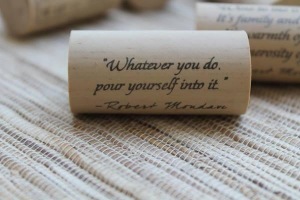 It gives me great pleasure to announce the arrival and launch of The Traveling Vineyard right here in Worcester, Massachusetts! The Traveling Vineyard is an in-home wine tasting company based out of Ipswich, Massachusetts and I am hoping to fill the needs (and wine racks!) of wine enthusiasts just like you!
The Traveling Vineyard offers unique and exciting wines from small, elite vineyards around the world. These wines are not available in stores and are exclusive to The Traveling Vineyard. An in-home tasting and wine party event gives you the opportunity to try before you buy in a relaxed, fun environment with friends and family.
For your private tasting event, I will bring five complementary bottles of wine (YES! FREE WINE!), wine glasses so you won't have a sink full of dirty dishes and will offer food pairing ideas and a lesson in Sommology. Sommology is The Traveling Vineyard's proprietary food and wine pairing system, which takes the intimidation and confusion out of pairing foods and wines and will provide many "AHA!" moments for you and your guests! A lesson in the proper steps to tasting wines and other educational components are included in your experience.
The Traveling Vineyard's wines are an excellent value. Our selection is ours and ours alone and allow us to compete with retail prices while offering you a personalized experience.
I am open for business! Just in time for the holidays! Whether it's a bottle (or a case!) for your home, as a gift, to share with others or to enjoy on your own, I am certain you will find the perfect wines and bring that "WOW!" factor to your friends, family, and any holiday dinner table! We also offer customized labels – a sure-fire way to impress dinner party hosts and gift recipients!
I look forward to guiding you through the world of wine and helping you plan your event! Contact me today to begin touring the world of wine from your living room and you will find that the best way to buy wine is to try it first!
**Jennifer Cass-Favata has been a Worcester Resident since 1999, prior to that having grown up in Spencer, Massachusetts. Jen organized and brought together WINGs (Women's Independent Networking Group), which supports self-employed women entrepreneurs and business owners in our community. Jen is a mom of two, a US Army Veteran and also works in the health and wellness industry. She is excited to bring the world of wine right to your home and expand her network!**