I tell people all the time that I would like to see Allegiant come back to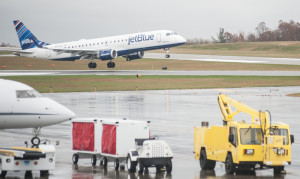 Worcester and they think because they left, we do not want them back. Why not?  They are a great airline, unlike Direct Air, and they have returned to Portsmouth, NH (Pease).  More importantly alot has changed since they left.
Massport has completely taken over ownership
We have a new FBO (Rectrix)
We have ew Airport Director (Andy Davis).
I am sure we can work out a deal to convince them to come back to ORH with routes that compliment JetBlue's Fort Lauderdale and Orlando route. Myrtle Beach and a Gulf Coast Destination like St Pete's or Punta Gorda would be perfect.Considering last time Allegiant was trying to be a success at ORH as the lone airline, it would be much easier for to attract passengers to their flights alongside JetBlue.    Allegiant did nothing wrong leaving Worcester last time. It is all about the money and evidently they were not making enough last time. We need to show them how they should come back and how they will be successful this time.
If you don't think JetBlue will leave ORH, if they are not making money, read this story.