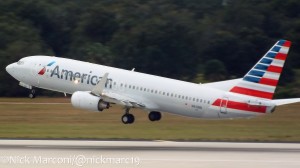 Today, American Airlines announced new routes that focus on flights out of small cities in the Midwest. The new flights will operate on regional jets out of Bismark, ND, Evansville, IN, Fort Wayne, IN, Grand Rapids, MI, and Cleveland, OH. (Link to USA Today story:) Cleveland isn't a small city but all the other cities named are and it begs the question: Could American Airlines start flying out of the Worcester Regional Airport?
Is it that farfetched? Worcester is the 2nd largest city in New England and has a larger metro population than Bismark, Evansville, and Fort Wayne combined. I believe that American could make two to three flights a day to Philadelphia on 50 seat regional jets and one to two flights a day to Charlotte, NC on 70-80 seat regional jet work. Philadelphia could provide Worcester with an international network less than one hour away by air and connectivity to many cities around the country. Charlotte would be ideal for those traveling to the southeast or the caribbean. That flight would do well in my family as Sarasota/Bradenton is a popular destination for us and flying ORH-CLT-SRQ would make it much easier.
Keep your eye on the sky above ORH because Massport is doing great things on Airport Hill and once the Category III ILS (Instrument Landing System) is installed I anticipate incredible growth with JetBlue and other potential carriers like American and Allegiant.