This past week Allegiant had their 45th straight profitable quarter and hit a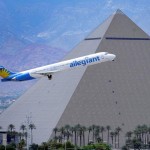 new record stock price. USA Today has a great story this week titled "Quirky Allegiant Air hits jackpot on small town America"-click here. Are they quirky enough to return to a city that they left already? Absolutely! Can you say Hagerstown, where they returned in May 2012 after leaving in July of 2010.  Allegiant does not make as large a commitment as does JetBlue with 2 flights maybe 3 flights per weeks, unlike for example, JetBlue. As a result it is much easier for them to enter and leave markets.
Why should they come back? Allegiant had widespread support when they were in Worcester with loads were in the 85-90% range . They were a real airline and people who flew them were very happy, unlike their experiences with Direct Air. If you called them, they actually answered the phone. Don't get me wrong, they are not in the class of JetBlue, but they are a great airline.  If Allegiant returned to Worcester, they would hit the ground running.For whatever reason that they left, they need to understand alot has changed since they left Worcester in September of 2006:
 New ownership (Massport) has taken over since they left.
New FBO (Rectrix) has come in since they left.
New Airport Diector (Andy Davis) has been put in charge since they left.
Many runway improvements have been made.
CAT III is on the way
The biggest change, however, is that we have JetBlue, who is beginning to establish ORH as a solid alternative to Boston and Providence. It will be a lot easier for Allegiant to fill planes alongside JetBlue's marketing efforts, versus being the only airline out of ORH. They will not compete direct against JetBlue with service to Sanford, but would offer service to untapped markets like Myrtle Beach or the Gulf Coast (St Pete or Punta Gorda).  If you are still not convinced look no further then Portsmouth Airport in Pease, New Hampshire, another city Allegiant left but has returned to in October of 2013 after leaving in 2007 with service to Punta Gorda and Sanford. I believe, however, they may suspend Punta Gorda for the summer. All reports are that all planes out of Portsmouth are full.
Lastly I recently watched an interview with the CEO of Allegiant who said their target market is the East Coast to Florida, can you say Woosta? Quirky Allegiant Airlines should return to small-town America in Central Massachusetts and hit another stock price high. A lot has changed at ORH, check us out!