Here is a link to our column on May 6th that predicted baggage fees will be coming from JetBlue.     Looks like it being considered quite seriously, here is the first paragraph from Bloomberg News: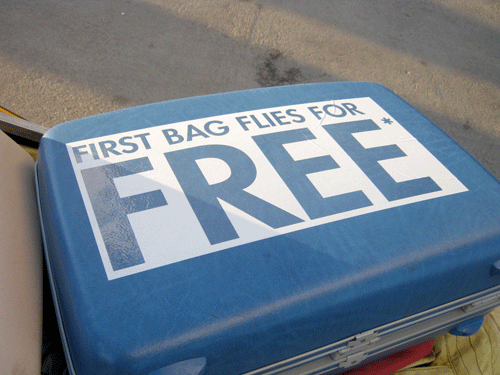 JetBlue Airways Corp. (JBLU), one of the U.S. industry's holdouts in not charging for a first checked bag, is considering adding the levy as the carrier overhauls the way it prices tickets.  "The concept of a first-bag fee is on the table," Chief Financial Officer Mark Powers said in an interview. "There is a construct under which we would, in effect, be able to charge for bags."   A fee may be part of JetBlue's new fare structure, Powers said yesterday, as the New York-based airline creates classes of tickets whose price would include services such as one free piece of checked luggage. While fliers could still choose a cheaper seat, they would have to start paying for any baggage, not just their second suitcase.  Adoption of such a fee would leave Southwest Airlines Co. (LUV) as the only major U.S. carrier that doesn't charge passengers for the first bag.
JetBlue Considers Charging for First Bag Under New Fare Structure http://t.co/AnHwJN8E5Q pic.twitter.com/qfoy5C1tzu

— Skift (@skift) July 27, 2014

In the end the stock-holders need to be taken care.   As companies like Spirit stock explodes, JetBlue needs to pay attention. From another Bloomberg story
That idea is based on an ethos of low costs, cheap fares, and high fees, a business model in which ticket prices are driven as low as possible by exterminating every possible expense and boosting revenue through extra charges for virtually everything: snacks, carry-on bags, and seat assignments. (Spirit avoids the word fee— Baldanza prefers the term "optional services.") The airline's average ticket price has declined from $94.24 in 2008 to $79.43 last year, even as non-ticket revenues per passenger soared from under $19 to nearly $54 in that period. Despite the prevalence of fees, Spirit says its total price is still lowest, at $102.02 on a length-adjusted basis, compared to $125.65 at Southwest and $152.97 at Delta.
Over 40% of Spirit revenues comes from these "optional services".    We now not only predict that there will be fees, or should I say "optional services", but they will be in before peak season, winter.