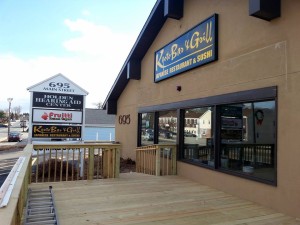 A week ago I had the opportunity to experience Kyoto Bar and Grill in Holden, MA. Kyoto offers traditional Japanese cuisine including sushi, which is what I tried.
This is their newest location. They already have two previous locations; one in Worcester and one in Northbridge. For the record I have not been to the previous two locations. My wife and son were out of town so I had a chance to relax and get out of the house. One thing struck me as I pulled in on a Saturday afternoon. The parking lot is small but the restaurant itself is large. If you go there on a weekend night be prepared to fight for parking or have to park around the other side of the building or in an adjacent lot somewhere.
I went early on a Saturday afternoon so I had no parking issues and there were very few people there. Since I came alone I decided to sit at the bar. The atmosphere in the restaurant is quite nice, it's not old, and it's not overly Japanese but simple, bright, inviting and very tastefully done. It wasn't full and I wasn't seated at a table so I really didn't get a chance to see if the tables were too closely packed into the room or not so I really cannot make a judgment call on that either way. Put simply the atmosphere was quite nice, as opposed to that overrated place in Cherry Valley. It really doesn't take much effort to make a place look nice and not like a pizza parlor. *cough*
The service was good but I expected it to be since I largely had the place to myself. My bartender had just started his job two days before but was quite able in his duties and I never wanted for anything the entire time. One time when he was busy one of the other staff actually came over to ask me if I wanted another beer. Added points for that! If the place was packed the staff on hand would have been overwhelmed. I've never been there for dinner but I've heard the place packs up full and if they under-staff on a night like that it could turn into a nightmare. They need to monitor this carefully. I can't say that they do or do not but I've been to so many places that under-staff their restaurant and it's a killer mistake. I don't care if the food is the best on the planet, if people are waiting too long they will remember that most of all and it kills their experience.
Let's get to the food. Their presentation is nothing short of amazing. Perhaps the highest rated sushi restaurant I've ever been to is Oga's in Natick and the presentation of the food at Kyoto blew them completely out of the water, I've never seen anything like it. Six stars out of five, truly.  I had three different sushi rolls. 1. The Whitinsville, which is salmon tempura, avocado, cucumber, soy wrap, topped with assorted fish, eel sauce, and scallions. 2. The Spicy Crab, which is crab meat mixed with spicy mayo cucumber, avocado, topped with a shredded crab. 3. The Red Dragon, which is shrimp tempura, cucumber, avocado, topped with tuna mixed with crab and tobiko.
I was extremely pleased with all the sushi. Everything was very fresh, very tasty and the ingredients of each roll were simply fantastic. You can get things here you may never have seen at another sushi restaurant. That gets extra points – originality counts. I didn't try the other dishes available but from what I've read customers seem to really like all the other dishes available.
All in all I will definitely be back. I'll bring my family, my friends; any excuse I can find to get back to this place. It's simply that good. I would definitely recommend going for lunch on a weekend. If you're planning on dinner I would absolutely definitely positively call ahead for reservations. Great appearance, great service (remember I had the place almost to myself) but most importantly great food. Being the Belligerent Gourmet I tried to think of anything negative and I simply can't. My Uncle would love this place. Five stars. It's great to have a place like this in the Wachusett region!