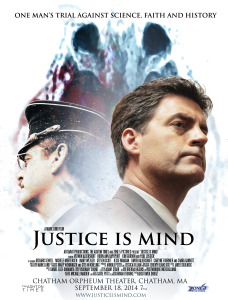 This upcoming Thursday September 18th The Chatham Orpheum Theater in Chatham, MA (Cape Cod) will be screening Justice Is Mind, which is written and directed by Mark Lund and starring Vernon Aldershoff, Robin Ann Rapoport, Paul Lussier and Kim Gordon. Tickets are 10 dollars for adults, 7 dollars for seniors, and six dollars and fifty cents for children. A cocktail party will begin at 6:00 P.M. and the movie will be shown on the big screen at 7:00 P.M. In a future where MRI technology can read your mind, the trial of the century soon begins when a defendant faces his own memory for a double murder he doesn't remember committing.
Mark Lund has always been a fan of the classic courtroom dramas like Judgment at Nuremberg and Witness for the Prosecution along with the original Sherlock Holmes films from the 1930s and 40s.The more contemporary movies being A Few Good Men and Primal Fear are considered to be two of his favorites. Those films did have influence for Justice Is Mind, but what truly inspired Mark was watching a 60 Minutes broadcast in 2009 that talked about 'thought identification mind-reading" techniques that were being developed at Carnegie Mellon University. With all these inspirations mixing with his interest in science fiction, Justice Is Mind was brought to life.
Mark has touched upon this material before when he was writing the sequel to his first screenplay First World. "In the sequel to First World there is a scene where all these people go into a room and a scanner reads their memories from the proceeding twelve hours." Says Mark, "It didn't take long on the research side to discover the 60 Minutes story. From there I wrote the feature length script." A fair amount of research was done when looking into MRI technology during the writing process but an extended amount of reading and consultation with Lund's personal attorney came into play with obtaining information with the courtroom scenes. When the script was finished, Mark thought it would be best to produce a short film for Justice Is Mind which could grab people's attention and get them to fund the feature production. The plan worked and preparations for making the full length version had begun.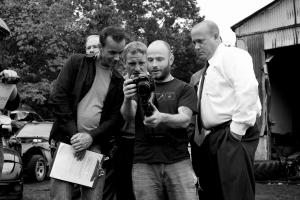 Justice Is Mind was predominantly shot in Massachusetts with some select scenes being done in Southern New Hampshire. The medical scenes were filmed at the MRI Centers of New England in Haverhill who were very cooperative during the production. Some of the techs you see in the film during those scenes were actual MRI technicians. Mark was very pleased with the outcome of the shoot. "As a filmmaker the experience I came away with the most was really making sure that everything during the pre-production process was properly planned." Says Mark, "Having all our actors, crew and locations locked down in advance just made the production process so smooth."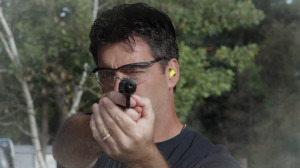 Justice Is Mind was originally premiered on August 18th, 2013 in Albany, NY. Since that time it has had numerous screenings in various places such as Ogunquit, Maine,  University Of Mississippi School of Law, Penguicon, Detroit, Beverly Hills, California, VCON, Vancouver, and  Plattsburgh, New York. Next month Justice IS Mind will be having an international premier on the cruise ship Cunard Line's Queen Elizabeth. The movie has also been selected for the Viewster Online Festival which you can watch and vote for on their website. This upcoming Thursday you have the chance to see Justice Is Mind on the big screen in glorious Cape Cod, it will be a spectacular event to experience.
"Audiences have been reacting to different segments and genre aspects of the film. Some are immersed in the courtroom elements while others are fascinated by the mind-reading technology. But the one takeaway that's pretty consistent is the loss of privacy and government involvement in our daily lives. We live in a world today where we have largely given up privacy for social media interaction, never mind cameras that pick up our daily movements. Now add to that a new dimension that even your thoughts may no longer be your own." – Mark Lund
You can follow Justice Is Mind on their website and facebook page for more information and a digital download.