Last month I was able to travel down to the hom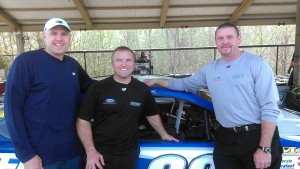 e of NASCAR, Charlotte, NC. where I filmed at the Roush Fenway practice facility and beautiful Lake Norman.   Mike Lingerfelt, front tire guy from the Carl Edwards #99 team, was my guest.   Mike is a true professional in the pits and a pretty good stick on the lake. We enjoyed two beautiful days in and around Charlotte.
Massachusetts based shoe company New Balance brought us together on this fantastic trip talking NASCAR and FISHING the entire time.  Many of you know New Balance as the leader in running shoes, baseball cleats or cross trainers such as the NB 623V2 Camo shoes that I wear.
Well now they have designed and built performance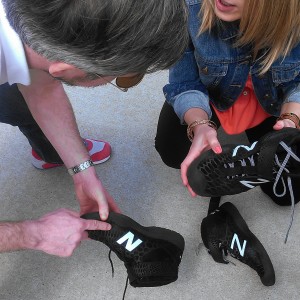 shoes for the Roush Fenway & Stewart-Haas Racing teams. All the pit guys from these teams are wearing the NB 500's to improve their overall efficiency in the pits.
New Balance designers have field tested and built several versions in partnership with the guys in the pits. So many factors go in to building a great performance shoe that provides stability, traction, comfort while ensuring common foot injuries such as fractured toes & rolled ankles are kept at a bare minimum during the racing season. I was able to be a part of the pit crew and change a front tire in less than 15 seconds. (So Cool)!.
After a day in the Pits we were able to hit Lake
Norman for some Spotted Bass in Mike's boat. In the 4 hours or so we had to fish before catching that JetBlue flight back home, we boated a pretty decent quantity of Spotted Bass  Although we didn't catch any monsters I couldn't have asked for a better two days of racing & fishing brought together by our mutual sponsor. Be sure to check out the show on my YouTube Channel.