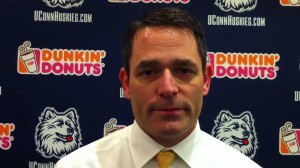 Holy Cross announced today that they've hired David Berard as their next men's hockey head coach.
In 2012-13, he served as interim head coach of the University of Connecticut and, more recently, served as coordinator of hockey operations at Providence College last season. A former goaltender at Providence, Berard has been coaching for 21 years and has served as an assistant in some aspect at Providence for 17 of those seasons. Last season, Berard was instrumental in leading the Friars to an NCAA Tournament appearance, making it all the way to the East Regional Final before losing to eventual National Champion Union College 3-1.
Berard will replace Paul Pearl, who announced his resignation from the program following last season. Pearl had spent the last 19 seasons behind the bench for the Crusaders, concluding his tenure with an overall record of 297-293-69.
Holy Cross will look to bounce back from a 14-22-3 season, as they go forward under new leadership.