GoFishDan was invited out to the annual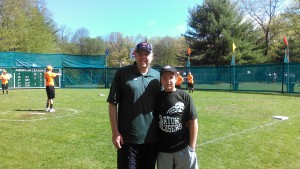 SLAM Diabetes wiffle ball tournament at Camp Joslin.  This great event is in it's third year and raises money for the diabetic children who would attend either Camp Joslin in Charlton or Barton in Oxford.  Our team the Barton Bolusers has won the past two titles and came up short this year in the final losing by a run.
This event is well organized with a great staff.   They set up exact replicas of Fenway Park & Yankee Stadium as the playing fields with teams rotating between them throughout the day depending on win/loss record.   Everyone who participates is a winner and has helped the cause for type 1 diabetics. A fantastic day for charity with 10 teams, over a hundred participants and local celebrity Adam Webster (Pike FM & Sharks).
My personal highlight was meeting Red Sox legend Louis "el Tiante" Tiant the celebrity pitcher for the home run derby. I was very young but remember watching him pitch for our beloved Red Sox!   For more information on how you can put in a team next year check out the Barton Center Website or the  SLAM Diabetes website above.
El Tiante at the Slam Diabetes wiffle tourney. Celebrity pitcher for the home run derby. #23 #RedSox @RedSox pic.twitter.com/8ZmTmGNqlt

— Daniel Kenney (@gofishdan) May 17, 2014
Now back to Fishing:  follow me on Twitter to see where and what GoFish Dan is doing.