Eight games in to the 2016 MLS season, and the New England Revolution looks like a team that could be in for a long summer and long season, and not for the good either. It's been a disappointing start to the season, and it wasn't any better this past weekend against DC United, as they lost 3-0 in our national's capitol.
This is the third time that the Revs have conceded 3 goals in a game, 13 goals all together in 8 games. This is also the third time they have been shut out this season, scoring 8 all together, with 5 of them coming in two matches. What I find more disappointing is two of the three times the Revs have been shutout this season was against DC United and their 23 year old rookie goalie, Travis Worra. You just have to test their goalie more, especially if he is a rookie.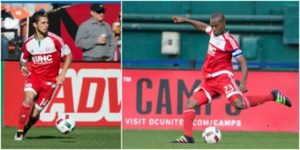 It is also true that New England has been fighting some bad luck on the pitch, like clear scoring opportunities go inches wide of the post, but they've also had to fight some awful calls from the refs as well. That trend continues this weekend. Teal Bunbury hit the post early in the match when it was still 0-0. A 22nd minute set piece saw Kelyn Rowe head Chris Tierney's service into the box across the 6 yard line, but only to have Je-Vaughn whiff on the shot.
A penalty call against New England in 33rd minute opened the scoring, when Lamar Neagle converted the spot kick. The score would remain 1-0 until the 86th minute, when Luciano Acosta caught Bobby Shuttleworth off guard with a shot 20 yards out, over his head. Minutes later, Alvaro Saborio made it 3-0 when Andrew Farrell's first touch took a bad deflection backwards, giving Saborio, who was a step ahead of Farrell, a 1v1 against Shuttleworth.
It's hard to blame one person over another for this loss. It is also hard to blame one group over another. They got shutout so the offense has to take the responsibility. The defense also let Bobby Shuttleworth down. The first and third goal could of been prevented. Farrell's bad first touch allowed Saborio his scoring chance. On the first goal, Je-Vaughn Watson could of done better to minimize contact on the penalty call, although I do question whether that was a penalty at all.