The bus left at 4:30 am Feb. 26th from the Rt.20 Park and Ride. It was packed
with Ron Paul supporters, Libertarians, Tea Party members, a few ex-communicated from a (shall not be named) Mass Republican Assembly and two Citizen Journalists from central Mass; John Abrahamsen from the Bluesmovers Youtube Channel and myself from The Meat And Potatoes Show. Camera gear was packed and ready!
Several hours later, after we checked in at the hotel
, we cabbed off to the Gaylord Center over the Potomac to the belly of the beast; Washington DC. We arrived just in time to set up close to the stage as Gov. Scott Walker  was introduced.
The audience went berserk!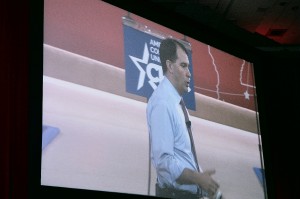 I am sure the reader will see much in the Lame Stream Media how CPAC was another Right Wing attempt to deny women the right to choose, or the 'War on Women' (forget that half the speakers were women).. Blahh.. Blahh.. The LSM was no where to be found. There were no banners advertising CNN, ABC, CBS, not even FOX. There wasn't even one booth outside the Potomac Convention Room where the LSM set up shop. I caught one glimpse of a tired camera man with a CNN cam and mic later on Friday who rested just under one of the Press box stands M&P2012 was filming from. This was Conservative territory buddy. Citizen Journalism owned the floor.
Then, Sarah took the stage. True to her fashion she let loose a 50 Shades of Grey upon Liberals and reminded us of what it means to be an American.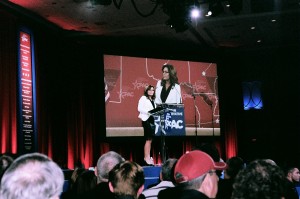 If you have never been to the Gaylord Convention Center, it is the most beautiful building. There is (of course) the Potomac Room where CPAC 2015 was held. The place is also multi levels of atriums, eateries, bars, conference rooms, venues. It is a one stop place where the hive of politics and theater expound. I was given the rare chance to be part of this event thanks to my good friend Brad Wyatt, 2014 Candidate for St. Rep.-Mass from The Campaign For Liberty who under-wrote this trip. I thank you Brad.
The many speakers did not hold back. Political Correctness was left at the door. The speeches were of 'realism'. I have not heard language like this since John Kennedy. No holds barred! This was a Conservative event and it was long over due that Americans could speak freely about the dangerous course we have embarked upon. No one was afraid to 'boo' a speaker and that speaker was not afraid to stand up for his/her principles. Even, RINO Jeb Bush.
As I study (and cover) politics I find that, only in our past, was such oratory and discord prevalent. No one gave a damn about who they offended. It was about purpose.  Today there is too much 'consensus', tnemiesoo many 'handlers' afraid of how something may be perceived. At CPAC 2015 it was about how many are still unemployed, way too much government, too little American Exceptionalism and too few who are afraid to call our enemies the vile words for which they are. At CPAC 2015 radical Islam was dragged out onto the stage and exposed for the horror that it is. Our Debt was laid beside it, border security
as well.
Donald Trump came on stage and said (about the border) "… building things is what I do best!"
Duck Dynasty's Phil Roberston was given the Breitbart Award. He preached and read from Washington to a silenced crowd about the proper role of a Republican Government and a Nation built upon faith
Here, at the last two years of the worst Socialist President since Woodrow Wilson; Americans gathered and paid money to attend this momentous occasion. They gathered to inform the world that this Nation WILL not perish from this Earth.