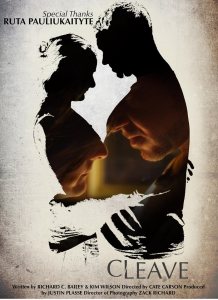 Cleave is a short film currently in the works and the production team has launched a campaign on Seed&Spark.com looking for additional funding for post production, submissions to film festivals, and distributing their film to the public. It's a story of a married couple, Aidan and Nadia. They have 2 children, the typical Americana life and small-town home. Life under the surface is not what it appears to be. Happiness is elusive but fear of change is stronger. Both of them stay in this toxic relationship; both of them fantasize of a "different life", but what they truly want and what they truly do never seem to connect outside of their fantasies.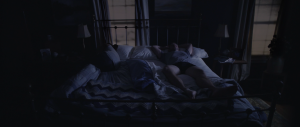 The script was formed based on a personal experience from the writer, Richard C. Bailey had in his own previous relationship. Though the situation is not exactly the same, there were many similarities to the final script. Rich and Kim Wilson, the second writer, brought the project forth to a group of people in the Boston film community. They met several times and finally decided this was a piece that could be produced and would really represent the New England area well. It took several months of pre-production and re-writes to fully realize the final nature of the script – which included making 3 films to represent the 3 different perspectives – HIM, HER, and THEM. There's 3 sides to every story.
Rich Bailey originally wanted to play the role of the husband in this film, but he stepped aside and used his experience as a Casting Director to help find the right actors. The lead actress is played by writer Kim Wilson in one of her first lead roles on film. She auditioned like everyone else, but director Cate Carson was so impressed with her abilities and portrayal of the character that she just became the right fit, as did Steven O'Broin and Lance A. Williams. Both of these leading actors really were able to capture the essence of their characters in a powerful way. The young stars, Amaryllis Miller and Quinlan Keefe, who play the children of the married couple, also gave strong performances and were such a pleasure to have on set.
The production team developed as a result of the collaborative meetings that were held even before the project was discussed. As pre-production was initiated, the Producer, Justin Plasse, expanded the crew, which included bringing on the Cinematographer, Zack Richard. His style and talent suited the film perfectly and did an excellent job conveying what was visualized. Several rehearsals were done for the dialogue scenes as well as a fight scene. It was wonderful for the cast and crew to be able to use the shooting locations, where typically it can be difficult to do before filming when your outside of a controlled studio setting.
Casey's Pub in Holliston was so accommodating to the filmmakers as well as Kim and her husband Rick's house where they filmed at their home in Natick. Kristin Brothers also lent the team her beautiful bedroom, that had previously been used by the Discovery Channel. "While we were filming, we heard our own crew discussing the issues represented in the film." Says Director Cate Carson, "And even from that point, it was evident that this film mattered, that people would have strong opinions about the character's lives and decisions. It was very rewarding."

With shooting now complete, the cast and filmmakers are looking for your help in expanding the budget of the film so it can be completely edited, shown within festivals, and delivered to your viewing pleasure.
"When you're in any relationship, you never get to experience events through the other person's eyes and viewpoint. Because this film is applicable to many types of relationships, we hope that the audience will examine their own lives and maybe shed a little light in areas of darkness, or even be thankful for what they do have in their life and with the people that are important to them." – Cate Carson
The funding campaign ends on November 17th, go to Seed&Spark.com to make your contribution to the film, and make sure like their facebook page and visit their website.