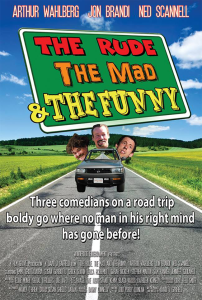 This coming Thursday September 18th make your way to Patriot Cinemas in Hingham, MA to see The Rude, the Mad, and The Funny, a new film written, produced, and directed by David J. Garfield which features Jon Brandi, Ned Scannell, and Arthur Wahlberg in his first starring role. Tickets are fifteen dollars per person which can be purchased on the movie's website and the show begins at 7:30 pm. Jake Starling, a newcomer to the stand up comedy scene is down and out. He loses his girlfriend, his job, and is about to lose his mother's house when he talks himself into taking two legendary comedians on a road trip to an Atlantic City "Laugh-A-Ton" comedy contest to try and fix everything. In a series of mishaps the trip turns out to be much more than he bargained for.
David J. Garfield is the grandson of two time academy award nominated actor John Garfield. Wanting to take up a career in show business as well, David began acting, shooting, and editing movies at a very young age and then decided to perform stand up comedy. Like most comedians starting out, David went through a tough time with trying to establish himself within the world of stand up. "It's very hard to break into doing real stand up comedy sets for legitimate clubs." Says David, "You have to suffer doing really crappy venues for months, sometimes years." David ended up basing the script of the movie from his real life experiences as a comedian. When production began for The Rude, the Mad, and the Funny, each of the actors relied on the script, contributed some additional dialogue, and occasionally improvised.  "I always used whatever was improvised whenever possible," said David, "It lends to the authenticity of the performance and makes the film more enjoyable to the viewer."
The movie was shot in many different locations throughout the production including Atlantic City, New York, New Hampshire, Vermont, and various parts of Massachusetts such as  Boston, Chelmsford, Marshfield, Weymouth, Braintree, and Quincy. With all of these destinations that were part of the movie, cast and crew members dealt with many challenges during the filming process. "No matter what location we tried to film, we were constantly harassed by park rangers, security guards, and even police," Says David, "Trying to shoot a movie in a vehicle required a permit for every inch of road we traveled on." Despite the hardships the cast and production team did manage to complete shooting The Rude, the mad, and The Funny.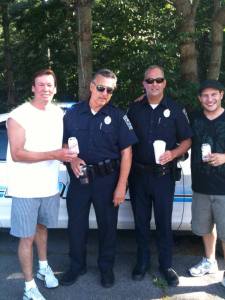 Post Production is being done on a very tight deadline and by this Thursday The Rude, the Mad, and the Funny will be ready for viewers to watch.
"We hope everyone will laugh several times and enjoy 'getting away on a mini vacation' with our cast as if they've also experienced one of those really great road trips with nice scenic experiences, as well as becoming attached to our characters and how they evolve together." – David J. Garfield
The Red Carpet Event of the Rude, the Mad, and the Funny starts at 7:00PM, at the
Patriot Cinemas in Hingham, MA
. Get there early to receive full sized movie posters, neat prizes, and of course great seats to enjoy the show! For tickets and additional info for the film you can visit the movie's
website
and like their
facebook page
.