The $3,000,000 million Wayfinder Sytem is official, check out this 32 page presentation which details how this is going to work. Now we need to hope that it is at least effective, and as tax-payers, there is a return on this $3,000,000 investment.
Take a few minutes, go through these 32 pages and tell us what you think. As a huge fan of the airport, I am surprised that directions to the airport are not more prominent as we grow ORH? Literally went through the 32 pages and saw one mention of the airport under Chandler Way. Evidently we will tell people from out of town to follow Chandler Way to get to the airport?
Is "skybridge" project in downtown #Worcester being revived? – http://t.co/LhfAt6HwVu #worcpoli

– Nick Kotsopoulos (@NCKotsopoulos) June 23, 2014
Going forward discussions concerning the Skybridge will heat up. Although initial estimates were in the $2-3 million ranges ten years ago, they did increase to $7 million. The cost will be at least that much to have this installed. Although it will force the owner of the hotel to start paying parking fees for the 130 spaces that are reserved for them in the garage, we doubt it will force them to pay the $700,000 that they have not paid since the agreement for the parking required the Skybridge. We can easily see the Skybridge being included in the final phase of $60 million DCU improvement plan, which followed the recently completed 31.5 million dollar first phase of improvements. Great summary by Walter Bird from WoMag on the DCU Center, click here,
Artist rendition of #Worcester skybridge project that might resurface http://t.co/yqdQ11MQXW pic.twitter.com/g6M7xNwzbt

– T&G Graphics (@T_G_Graphics) June 24, 2014
Now this week when we noticed the purchase of the two properties on McKeon Road that abuts the proposed Blackstone Valley Visitor Center (BVCC) by an entity controlled by the WBDC, we will report closer on the plans for the BVVC going forward. Safe to say that this project will have to cost in excess of $10 million dollars. Between these three projects (Wayfinder-DCU-BVCC), we are talking over $100,000,000 of public monies. The basis of the argument will be that this $100,000,000 will all help us attract people to Worcester and we will get a return on our investment.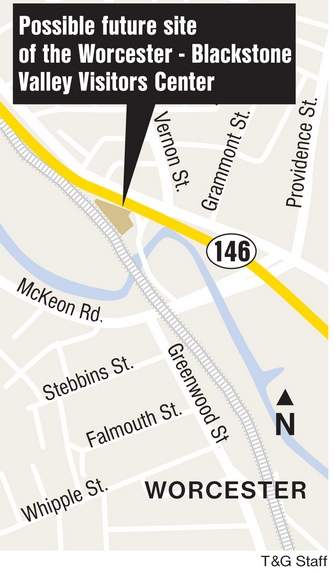 On the other hand Rush gaming was proposing to invest $240,000,000 of private monies into a casino. Casinos are a huge draw for many types of people, whether they be physical casino facilities or online casinos similar to those this website can offer. The entertainment possibilities are practically limitless which is why this would be an attractive choice. If, however, the plans for a casino do not go ahead, perhaps locals and others who would have liked to test their luck in a game of chance may find what they're looking for over on conquercasino.com, an online casino where that you can play a variety of traditional games and slot machines all from the comfort of home on their mobile. Online casinos on apps or using DeFi tokens like Crypto Snack might prove to be an excellent alternative for those looking for a new way to get their casino fix! Let me ask you this if you were considering having a convention in Davenport, Iowa, which factor do you think would help you decide to go there:
Visitor Center