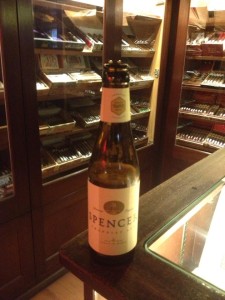 Today I would like to talk you about my favorite cigar bar in Worcester, Victory Cigar Bar .  Believe it or not, many towns and cities in Massachusetts have a ban on any smoking establishments, while in Boston only a few remain. There is something we might actually beat Boston at!!
I understand the health risks involved in smoking cigars, but I have decided that it is something I like to do. Once a month, I sit back and relax on one of the leather sofas with a drink by my side, flat screen TV in front of me and a good cigar lit up with nobody bothering me.  Sometimes I may sit at the bar and talk to some of the other patrons at that establishment.  The truth is there are not that many places to go smoke, relax, and be left alone.  Cigar smoking is something you do to pass some time and relax or maybe talk about cars, sports, money, whatever the subject might be.   Victory Cigar bar always makes you feel comfortable no matter what you want to do..
The owner of the bar, Mark Piscillo, is usually early after he opens at noon and will take the time to get to know you.  Recently, I walked in and heard "JOSE!", not "NORM" from t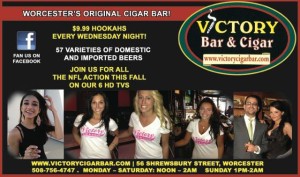 he bar, maybe that's why they just celebrated their 10th year anniversary.  Victory has a variety of beers, including our own local Spencer Trappist Ale, whiskey, vodka, and wine. Maybe you don't want a cigar, but just want a place to smoke a cigarette? They sell cigarettes as well as hookah.
If you have never smoked a cigar or are new to the cigar smoke scene and want to learn more,  check this place out.  They will take the time to answer any questions that you may have about the different cigars without making you feel uncomfortable.  Just make sure you have at least an hour. Everyone knows, a good cigar is something you do not rush.  After you have eaten at one of the many great restaurants on Shrewsbury Street,  stop here, relax and have a cigar.
Another idea is to attend one of their monthly promo events.   Like Victory Cigar Bar on Facebook to keep up with these events that usually promotes one of their products.  Lastly this is not a "mens only" club.  Although a majority of the customers are males, there are plenty of women who go there. Enjoy, hope to see you there!!