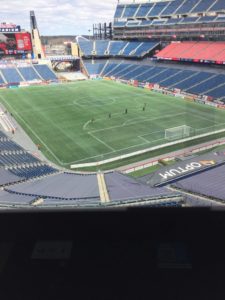 Wasn't the prettiest of wins, but the New England Revolution beat Houston this weekend 2-0 at Gillette. Following a hard fought 1-1 tie last weekend at Portland, a tough place for visiting teams, the Revs were looking to regain their tough home form that was some what lost last season, as well as continue to build off of last weeks tie.
"I feel like teams don't like coming here and play because of the way we come out. we come out flying, we come out to press, and the cold weather, people complaining about the turf, other things, we just use it as a positive for us." Juan Agudelo post match about playing at home
The first half saw few scoring opportunities for both side, in fact the best chance for a goal came just before half time.
This was my favorite non-goal moment yesterday. What a ball from @antonio_delamea with the outside of the foot. #NERevs pic.twitter.com/CMqQ2L6fdq

— Jeff Lemieux (@jeff_lemieux) April 9, 2017
The main story of the first half, as well as the game was Kelyn Rowe playing left back in place of Chris Tierney, who wasn't hurt and was on the bench. I believe his ill attempt at clearing a cross last week against Portland, which led to their only goal of the match may of cost him this match against Houston.
Diego Valeri opens the scoring! What a hit! #PORvNE pic.twitter.com/jJqXeOqKPF

— Total MLS (@TotalMLS) April 3, 2017
Houston spent a lot of time in the first half attacking Kelyn's side of defense, but a great team effort was put together by Diego Fagundez, Xavier Kouassi, and Antonio Delamea to help support Kelyn.
Another developing story line is the emergence of rookie central defender Josh Smith. At 25 years old, and standing tall at 6 feet 4 inches and 200 pounds, the big center back started his second straight match, both times over Benjamin Angoua who sat on the bench for both matches. I don't think that move will be permanent as Benjamin has a ton of experience over seas, but a few early season mistakes on his part has cost the Revs a couple of goals against.
However, to start the second half, the Revs come out flying, and within the first five minutes, Lee Nguyen had taken three shots, all from out side the box, and missing the post but not by much. This had an affect on Houston's back line, forcing them to drop back a bit and allowing the Revs more room to operate offensively.
"At half time our main objective was to get some shots off and get some goals. we were a bit more aggressive in that side. Lee took three shots in the first five minutes, others were taking shots. it made them back up more and give us more space".
"The movement we had in the second half I thought was great. Our coaching staff did a great job telling us to get behind more, their center backs didn't have the pace that we had. Kei got in a couple of times, and I thought our mobility was better in the second, stretched them out." Juan on 2nd half offense
First shot ❌
Second shot ✅#NERevs lead 1-0 pic.twitter.com/7JetQulhmT

— New England Revolution (@NERevolution) April 8, 2017
This is exactly what Juan talked about post match, getting behind Houston's defense.
Other match highlights:
Soccer really is the most beautiful game. pic.twitter.com/wOEebwiTAx

— Total MLS (@TotalMLS) April 8, 2017
This could of ended badly..
Well. That's one way to defend I suppose. #NEvHOU pic.twitter.com/V7p9b2RZ48

— Total MLS (@TotalMLS) April 8, 2017
Queue the Benny Hill music!
In the 70th minute the Revs were able to bury Houston for good. Something they haven't been able to do last season, bury a team, scoring that 2nd goal.
SWAGS! @JuanAgudelo makes it 2-0, #NERevs, with less than 20 minutes to play! pic.twitter.com/BSmIYkSYCS

— New England Revolution (@NERevolution) April 8, 2017
Agudelo makes it 2-0 New England. #NEvHOU pic.twitter.com/DICpQ8VRZI

— Total MLS (@TotalMLS) April 8, 2017
Goalie 101:how not to handle a cross!
buy Zovirax online
http://noprescriptionrxbuyonline.com/isotretinoin.html
buy Flagyl online