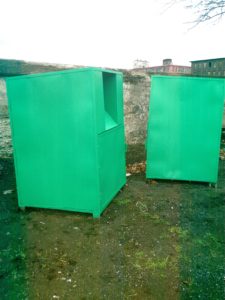 If you a local business, church or maybe a sports league always looking for additional revenues, we are will to pay $50 per month to allow us to place one of these bins to collect clothes donations at your location.   As a fellow business-owner, we realize the overheard costs associated with your business and that you need to maximize every inch of your property.    A $600 annual return on 16 square feet of your property that is most likely not used is hard to not consider.   
We realize that  the main objection is the trash that sometimes accumulates around these bins, but that is mainly due to a lack of service/response from the underlying company that owns these bins.      We are a locally owned company and drive by these bins at least three times per week and can furnish you with references.     This is not a problem with our bins.
Give us a chance.   We will pay you $150 for 3 months and if you want us to remove the bin,we will.  What do you have to lose, send us an email today.