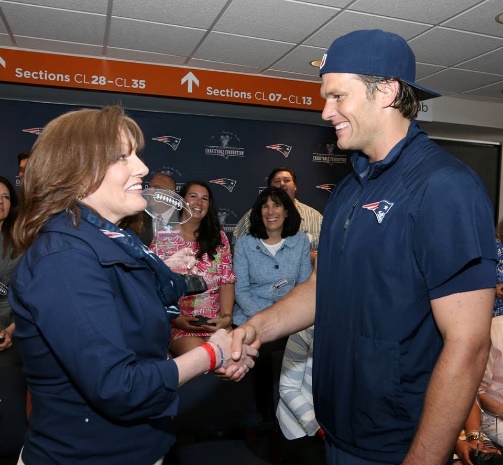 Mary Ellen Wessell of Rochdale, Executive Director of Children's Smile Coalition, was awarded the Myra Kraft Community MVP Award earlier this month by the New England Patriots Charitable Foundation. She, along with 25 other recipients were presented the award by Patriots Chairman and CEO Robert Kraft and Pro Football Hall of Famer Andre Tippett at a luncheon at Gillette Stadium. Each year, the Kraft family and the New England Patriots Charitable Foundation host the awards program as part of the ongoing Celebrate Volunteerism initiative in honor of Myra Kraft's example of being a lifelong volunteer. This year, Tom Brady and Rob Gronkowski were also on hand to congratulate the winners.
Wessell founded Children's Smile Coalition, a 501(c)(3) nonprofit corporation, in 2012 to serve children living in poverty in Massachusetts. One of CSC's program – Santa's Big League – provides Christmas gifts for teenagers living in poverty, a group often overlooked during the holidays. She also places bins in schools filled with clothing, shoes, healthy snacks, coats, dental supplies and toiletries so that those children whose parents cannot afford these basic items will have access to them when needed.
"Volunteering is a significant part of my life," said Wessell. "There are many so children in my community that are living in poverty. And if I have the time, the ability and the resources to start and run an organization that helps them, how can I not do that?"
Part of Children's Smile Coalition's mission is to encourage all children to give back to their communities. Wessell has coordinated an annual Young Heroes Night to recognize children for their commitment to volunteerism. Through her hard work, she is fostering the next generation of volunteers while bringing smiles to children and teenagers in need. This year's Young Heroes Night is on September 24 at the Hanover Theatre in Worcester.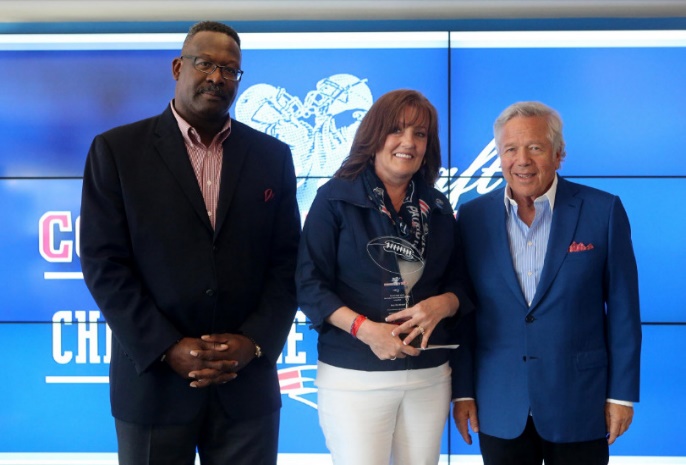 Wessell was also presented with a $5,000 donation to Children's Smile Coalition from the New England Patriots Charitable Foundation and the Kraft family.
For more information about Children's Smile Coalition, please visit www.smilesonkids.org or email maryellen@smilesonkids.org