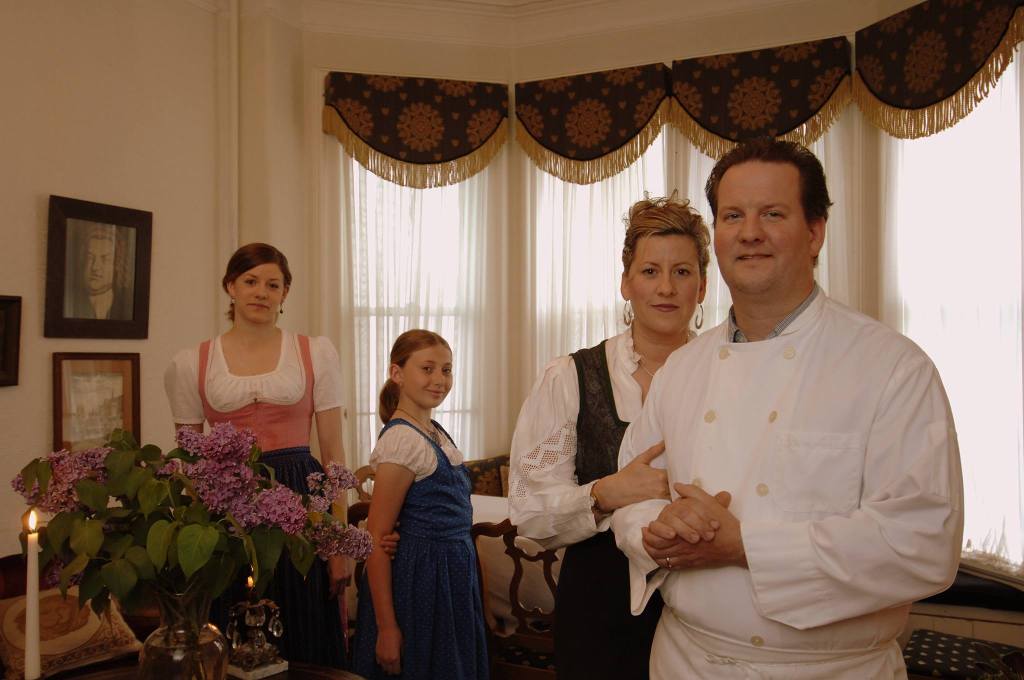 I finally had the opportunity to visit the Vienna Restaurant and Inn in Southbridge, MA this week. Being raised German there are not a lot of chances for me to get out and explore high quality German restaurants. There is one in Southern NH and the Student Prince in Springfield but that's largely it. Getting German wurst is near impossible locally anymore since the International Deli on Water Street in Worcester closed and I wind up ordering it online. The Vienna is really more Austro-Hungarian than German but for us unwashed U.S. masses it's largely the same (and if you ask someone from Austria if they speak Austrian they should laugh in your face, right President Obama?). The restaurant is easy to find being right on South Street, which is a sharp right off on route 131.
The interior of the place was simply amazing. As advertised it's a historic Inn and restaurant. The seating area is limited so I highly recommend you make reservations. The atmosphere was like walking into someone's home and it was very nicely decorated for Christmas. My German mom would have loved it! All of the areas downstairs for enjoying food and drink are very inviting and there is an outdoor fireplace and seating for the good weather (I am definitely going back in the Spring to experience this). We were seated next to the fireplace, which is old period and fully functioning. The atmosphere at the Vienna gets an A+.
The service was fantastic even though there was a small function off in the back of the house. Our server was always there when we wanted her, yet not over-bearing. She was very nice, very polite and I was pleasantly pleased. I must say everyone at the Vienna is really fantastic and very welcoming. The service gets an A+.
We started off with drinks, I had a dark German beer I've never heard of which was just awesome. My wife had a glass of Austrian dry red wine, which she loved. She's particular about her wine and I've never tried an Austrian red before, I'm usually a Riesling man. If you go definitely explore the beer and wine, you won't find at any other restaurant without a lot of difficulty.
I asked them if they had potato pancakes as an appetizer for dinner, I only saw it listed on the lunch menu. It never hurts to ask and I love potato pancakes. The host came over and told me they would be glad to make it for me. Let me stop the review right here for a moment. This is how you run a restaurant. That was the right thing to do. It wasn't busy and they clearly wanted us to be happy. That matters. I was quite pleasantly surprised.
Before that came out our server brought us out a plate of crackers, cheese and pate' (that's liverwurst for you Yankees). I only buy Schaller and Weber liverwurst and this was good, as was the cheese. That was a nice touch before the appetizers arrived and something I'm only used to at Sonoma in Princeton. The potato pancakes were a surprise. They were much thicker and clearly had a different recipe than I'm used to but they were very good. The next time I go I will have to ask them what's in them. I've volunteered at the Octoberfest in Lancaster, PA and I've made them (on a grand scale). Since they made it for my special I ate every last awesome bit!
The salads came out with a house dressing that clearly had curry in it. It was really fantastic. These folks think outside the box, I like that. The salads were fresh as can be and a good mixture, not the usual fair. For dinner I had the Wiener Schnitzel and my wife had the Boar shank. Here comes my only issue.
The schnitzel is described like this, "Thinly pounded cutlet lightly crumbed". It was a plentiful portion and I was quite full by the end of the night, The breading on it was great and that isn't easy. At the time I didn't think to ask if it was pork or veal because a traditional Wiener Schnitzel is always veal. Many people (including many of my German friends in PA) will use pork instead of veal but I will never do that. When I got it I found it was pork, I could tell from the color and taste. I make this dish myself quite a bit and I absolutely love veal. I know it like my best friend. I love veal so much I even wrote a song about it! While it was good I was a little disappointed. I would always give the customer a choice; pork or veal. It can even be done with chicken. It really should be stated on the menu that it's pork, or better yet toss the pork and use veal. They already have a local farm they get it from. That was my only complaint and it was really one I either could have avoided by ordering something else or I could have asked them so I blame myself. My wife's Boar was even better. She described it as a cross between pork and lamb. It was very good and it was a plentiful portion. She wound up taking home the leftovers and it's even better the next day. The food gets an A-. State it on the menu, folks.
The Vienna really has some interesting things on their menu and I plan on trying many of them in the months to come. You can see their menu here..     Just look on the bottom right side of the page for the different menus available. Overall the Vienna is five stars out of five! As I said my issue with the Schnitzel was my fault but like I said, use veal especially when you already have it there. We will definitely be back and we may even try the Inn!
As an aside, I have an update about my review for the Black and White Grille in Spencer. Apparently there was a change of ownership in the past year. This explains a lot and I found I'm not the only person that's been disappointed recently versus past visits. Happy dining and Merry Christmas!