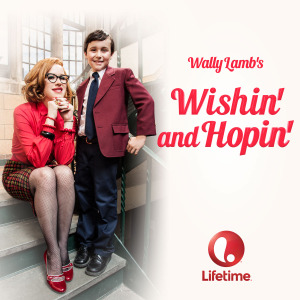 As the Christmas bells are ringing in the holiday, there's a wide collection of stories to read and watch which truly celebrate the festive season. One particular tale that lives up these qualities is Wally Lamb's novel, Wishin' and Hopin', which has risen from out of its pages and has come to life on screen in a new film by Synthetic Cinema. John Doolan adapted the novel into a screenplay, Andrew Gernhard produced the project, and Colin Theys served as the director. Wishin' and Hopin' will be airing on Lifetime Saturday December 6th at 8P.M.which features Molly Ringwald, Meatloaf, Cheri Oteri, Wyatt Ralff, and narrated by Chevy Chase.
A vivid slice of 1960s life, Wishin' and Hopin' is a wise-and-witty holiday tale that celebrates where we've been-and how far we've come. In the small town of Three Rivers, Connecticut, we go straight into the halls of St. Aloysius Gonzaga Parochial School with Felix Funicello, a Catholic school fifth-grader in 1964, whose claim to fame is his cousin Annette Funicello, the famous Mouseketeer and teen movie queen. But grammar and arithmetic move to the back burner this holiday season with the sudden arrivals of substitute teacher Madame Frechette and feisty Russian student Zhenya Kabakova. While Felix learns the meaning of French kissing, cultural misunderstanding, and tableaux vivants, Wishin' and Hopin' barrels toward one outrageous Christmas!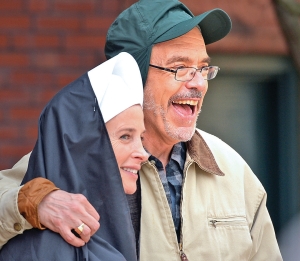 Synthetic Cinema is primarily known for their horror movies that they make, but the team has strived in stretching their creative boundaries into different genres. Producer Andrew Gernhard saw the great potential Wishin' and Hopin' had being made into a terrific holiday film and pursued the task of getting it created. John Doolan was brought on as the screenwriter and a meeting went underway with Wally Lamb for the early writing process to discuss the structure of the film. While the script was being put together, Wally was always brought in the loop when new drafts were finished. "It was very important to me that he approved of what we were doing so he would give us notes and comments, all of which were extremely helpful, and he was also encouraging towards the few changes needed to make it work as a film." Says John, "He completely understood when things had to be cut or altered and trusted me to make it all work out and keep the spirit of the book in tact. It was a great collaborative experience."
Many discussions about the casting were brought up during the script stage, and the production team collaborated on putting together lists of top choices for each character. Molly Ringwald made it on to their primary ideas for actors and everyone felt she would be perfect for the role of Madame Frechette. Andrew was a huge of Meat Loaf and has always wanted to cast him in one of their projects, so he was put high on the list early on. "With every movie, it feels like once you land one particular actor, the rest just quickly fall into place." Says John. Some preoccupation came about when it came time to finding the lead kids for the film, but when Wyatt and Quinn's auditions came in it was pretty clear the search was over. "This process went pretty smoothly and we got a lot of our top choices for the cast." Says director Colin Theys,"We really got a great group for this and it showed on screen and on set."
The task of creating a 1960's environment proved to be a challenge as production went underway for Wishin' and Hopin'. The creative team had more to work with than usual, but it still takes time, money, and research to get the historical look right, and limitations were brought to all of these aspects for the filmmakers. "We shot in a functioning school with modern water fountains, lighting, exit signs, door hinges, projectors, white boards, desks, technology, etc." Says Colin, "Norwich Free Academy was very cooperative in helping us temporarily remove or cover non-period items." Much attention to detail was taken into consideration throughout the shooting process.
One of the biggest differences between this film and all of the others Synthetic Cinema has made was the fact that they were working with a number of young kids. One thing they certainly learned for any future productions with a large amount of children is to hide the sweets! On any given day there would be twenty to forty kids on set, ranging from the ages of eight to fourteen. "Let me preface this by saying I absolutely love all the kids we had." Says John, " For the most part, they were so mature and very professional…BUT by hour eight of a big day filming the cafeteria scenes, they all started hoarding the candy and soda. By the time we wrapped, they were literally jumping off the walls. And when I say literally, I mean the actual definition of literally. Needless to say, it was quite the experience for all of us!" Wally Lamb was invited to the set while filming carried on and he was very pleased to see his book fully formulated into a wonderful production.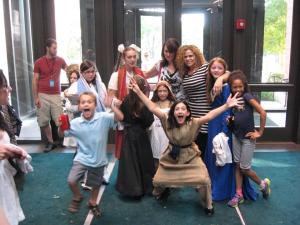 After the shooting was complete, post production went underway with putting the film together. Editing went quite smoothly, but the biggest challenge was a tight turnaround to get it ready for Christmas. Obtaining the rights to all of the period music and imagery that was used in the movie also served to be a challenge; but the production team was able to see the task through. Chevy Chase was then brought in to do voice over narration for the adult Felix and final touch ups to the film were made.
Wishin' and Hopin' had a premier at The Garde Arts Center in New London, CT on November 23rd where all of the tickets were sold out. Audience members had the opportunity of seeing Wally Lamb and the cast and filmmakers in person during this fabulous event. Other screenings for the film were recently held in New York and Los Angeles and after the Lifetime broadcast another screening will take place at UCONN in The Student Union Theater on December 11th starting at 6:30P.M.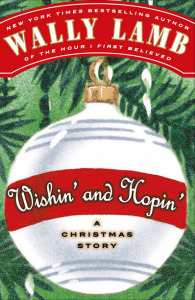 This Saturday at 8P.M. you have the chance of tuning in on the Lifetime Channel seeing Wally Lamb's novel enlightened into your television screen and watch his holiday tale come alive. "You've got to have a lot of respect for him as a writer, He's incredibly talented." Says Colin. Let Wishin' and Hopin' become a part of your holiday season this year and welcome it as an ornament to your future Christmas traditions.
"I hope audiences will have the same experience watching the movie as we had making it; that they're witnessing something special. It's a fun, heartwarming little movie with a great amount of energy and witty humor that I hope people will want to revisit again for holidays to come." – John Doolan