I read an article that stated the reason for the large number of three-deckers built in Worcester was due to the high cost for constructing water lines. The closeness of the homes, lined up on most of the seven hills of Worcester, was because building taxes were based on the frontage length for each building.
I have my own opinion. I am Italian and I can imagine large Italian and Irish families wanting to live close to other family members. It is not the living situation for everyone, but I would love to live above or below most members of my family. Simply hanging around on the porches or running up or down stairs for a visit. My extended family have owned several three-deckers and loved it.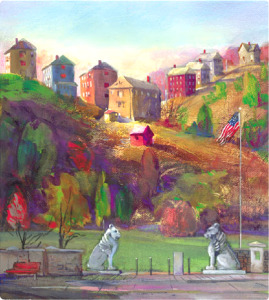 My first year of art school was spent on a first floor of a three-decker apartment on West Street. The high ceilinged rooms were cavernous enough to be fun to share with my roommates and party guests. The kitchen was HUGE, the floors and doors were all beautiful solid hardwood. (The only bad thing was early mornings awakened by a two year old rolling around on his big wheel right above my head).
As a newlywed, I moved into the third floor of a rent-controlled three-decker in Boston. My starry eyes did not see the old fashioned style of the place. I only gloried in having so much space in a big city. Using my artistic skills helped make the rooms glow with color. There was a long central hallway where I put down a rainbow of carpet samples. Being young I was never bothered by climbing to the third floor. I could see the fireworks over the Charles River on Fourth of July from my third floor porch.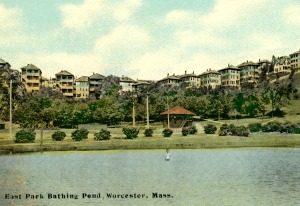 I live in Orlando now and it has a version of ethnic family homesteads. There are many compounds of several homes built together behind safety gates – or large 7-10 bedroom homes. Along with Italians, Orlando has wealthy East Indians, Brazilians and many Latin nationalities who desire to live together.
The vast majority of apartment housing in Orlando though consists of several identical large, boxy buildings with eight apartments in each. There is none of the charm and beautiful craftsmanship of the Worcester three-deckers, where each building is unique. I am eternally grateful that so many beautifully crafted and unique three-deckers are still standing in my old hometown of "Woostah."
See: Jan Brewster – Art Dealer story.
I sell Worcester Scene prints.  Please visit my online art gallery.