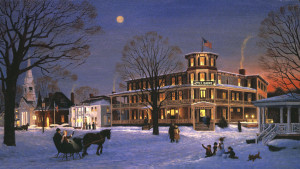 Let's compare Holiday celebrations in New England and Florida.
Worcester has cold weather and warm traditional holiday gatherings. Cookies are home baked and many gifts are  hand made. My memories are full of perfect Holidays spent by a fireside in my cozy ornate home in Grafton, with its magical town common.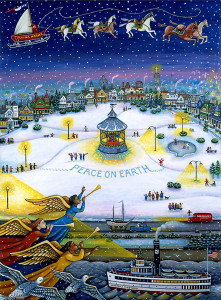 Cape Cod and Islands have their own special quaint charm at the Holidays because it is calm and quiet. No hectic tourists bustling around.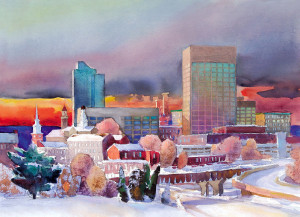 New England days were spent planning parties, cooking treats and gatherings with friends and family. Sometimes boots would crunch in the snow outside while other years Holidays were more green and spent "dreaming of a white Christmas."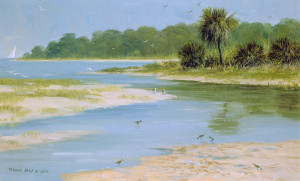 Now my Christmas's are "Merry and Bright."  Merry because I am so warm in the Florida sunshine – and bright because there are light displays EVERYWHERE!! The amusement parks in Orlando put on world-class light shows along with private residences. It is a lot easier to put up  lights when fingers are not numb from the cold. Stucco covered square buildings in Florida cannot compare to the welcoming porches in Worcester though.But, wherever you spend your holidays – of course the magic ingredient is family and friends.
Best wishes to all for a Happy New Year!!
I sell my Worcester Scene prints in my online art gallery. I live in Florida now but I will always be a Woostah girl. Please visit my online art gallery