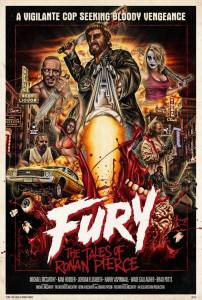 The McCarthy brothers have teamed up together and have created a new action adventure horror film titled Fury: The Tales of Ronan Pierce. With Kevin being behind the camera as director and his brother Michael playing the lead role, this movie has assembled into an intense cinematic experience for viewers to watch. Inspired by their favorite dark & twisted graphic novels, FURY revolves around vigilante cop Ronan Pierce. He is fueled by a tragic past, and the recent abduction of his wife McKenzie has Ronan's appetite for vengeance completely unbounded. Relentlessly searching for clues, Ronan systematically unchains his rage on a city full of psychopaths, gangs, corruption and the unrivaled evil-doings of the Luna Cartel. Responsible for both his daughter's death and his wife's abduction, the Luna Cartel enslaves thousands of young beautiful women from around the world and harvests organs from all of it's other victims. Joined by his partner Rex and a young circus clown named Karina, Ronan 'paints the town red' in his search for bloody justice.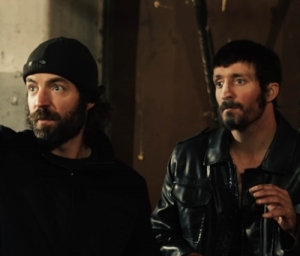 The McCarthy brothers are huge movie fans which gave them inspiration on different levels with their own work. Some of their favorite films include Mad Max, Escape From New York, Sin City, The Crow, Blade, Kill Bill, Batman, Batman Begins, The Dark Knight, The Matrix, Dark City, Hanna, and The Punisher. They strive in immersing the audience into a different world and providing plenty of entertainment along the way. Kevin and Michael first came up with the idea while they we're brainstorming for the Providence 48 hour Film Project in July of 2011. One possible story they considered was to create a movie about a crazed vigilante cop. They ended up not using that idea for the competition, but both of them liked that plot so much that Kevin and Michael started creating a story for a short 15 minute film soon thereafter. The McCarthy's desire to do a short film slowly morphed into a realization that doing a feature film was truly their greatest dream. With that goal in mind, they spent November of 2011 coming up with this story and completing a final outline. By December of 2011, Kevin started casting actors and hiring crew, while his brother spent that month writing and finishing the initial screenplay.

When having specific actors in mind for this film, it was decided from the start that Michael would play the role Ronan Pierce. "It is extremely important to find a lead actor that can really commit to your project long term, especially if you have a limited budget." says Kevin, "In addition to being a perfect fit for the crazed and intense role of Ronan Pierce, it obviously helped tremendously that my brother was also a co-producer. Not too many other actors would have kept up the "Ronan Pierce" look for the duration of two years."
In regards to all other casting it was a daunting process to find the right actors for the film, but yet it was also very important. With using different casting websites and personal contacts of fellow producers Edward Payson and Anthony Ambrosino, the filmmakers posted ads to every major US city on Craigslist. Considering their budget limitations, they tried to use mostly non-union actors for the majority of roles and only used 5 acting members from SAG. The producers and director ended up going through the proverbial "haystack" to find talented actors yet to be discovered. "In the end though, it's such a rewarding feeling to introduce the world to such a fantastic group of performers" Says Kevin.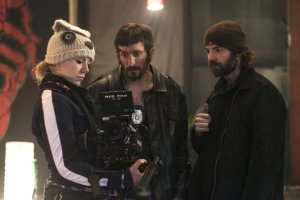 Much of the anticipated filming involved the main villain Damien Logan played by Watertown, MA native and close friend Wade Gallagher. Unfortunately, Wade was diagnosed with esophageal cancer in late 2012 and sadly lost his fight to cancer in the the summer of 2013. This sad turn of events led the filmmakers to completely re-think the entire story. They put their heads together and concocted a new twist for the tale that brought a satisfying result for everyone. This new twist for the project meant adding Brown University graduate and Boston resident Harry Aspinwall as new co-lead antagonist Lukas Lodder.
By 2013, the cast and crew then went on to have two major shoots in Fall River, MA and a few minor shoots in the Tampa Florida area. Multiple stunt coordinators were used for the action scenes who worked with the actors and cinematographers to help bring these sequences to life. Lighting the set also proved to be an important challenge while shooting as it helped bring the film's final look together in a shot. Much of the movie's uses of film noir technical sensibilities was an essential part of Fury's ultimate style. "In the end, believe it or not, all the crazy changes we were forced to make actually made our team and our film much stronger" says Kevin.
Post production proved to be a very long and ever changing process for Fury. "When your a perfectionist like myself, it takes a lot of patience and commitment to see your final vision come to fruition" Says Kevin. After a rough cut edit of the film was finished, many visual effects and animated transitions got added which were done by Providence's Treanor Bros Animation and Kevin himself. Creating animation and CGI effects for any movie can be very challenging and costly, so the filmmakers employed a highly skilled artist from Vietnam, Gia Nguyen, to create the dimensional background "matte paintings" of FURY's fictional Harbor City in Photoshop. Once this background art was finished, Treanor Bros Animation would then add the animated elements Kevin was looking for. Once the animation and visual effects we're finished, the last steps of the editing process were sound design and color grading.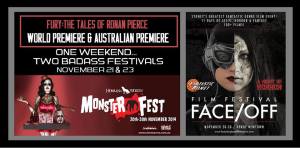 With Fury: The Tales of Ronan Pierce being finished, the film will be premiering at The Fantastic Planet / A Night of Horror Film Festival in Sydney Australia on November 21st and also at The Monster Fest film festival in Melbourne Australia on November 23rd. Small independent films without distribution need a string of festival success worldwide to establish the film's credibility and worth. The McCarthy Brothers hope to make a name for themselves in the market, and ideally find the right distributor in this process. Their dream would be to have a US theater release even if it is local or limited. Either way, some time in 2015 Kevin and Michael would certainly like to premiere the film locally and possibly screen it at really cool local New England theaters. In the mean time the filmmakers want their new project to grab as many people's attention as possible.
"We hope people feel fully immersed in the world we created; a nonstop ride through a gritty urban landscape relentlessly pulsating with dark Rock N Roll, crazy characters, violence and over the top visuals. We want to give our audience the ultimate feeling of escapism." – Kevin A. McCarthy
To follow up on how Fury does at the festivals and its future progress you can like their facebook page and view their website