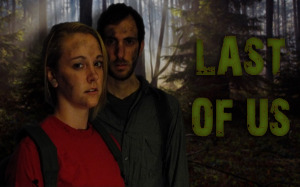 Last of Us is a new horror action film based off of the noted playstation video game that premiered earlier this year in Providence, Rhode Island. Josh Zanni wrote and directed the movie at the age of seventeen working with a Canon 60D DSLR camera to shoot the project on. This short zombie apocalypse film can be one to add to your collection for the Halloween season. Joel (played by Jay Lamantia) must go through the daily challenge of surviving a fungus infected apocalypse. He vows to protect a young girl named Ellie (played by Seyward Guthrie) as they travel to his brother Tommy's (Mike Lamantia) house to live in safety. But on the way things get crazy and Joel discovers a secret about his brother. Joel is expected to make a tough choice and Tommy is shocked by his decision.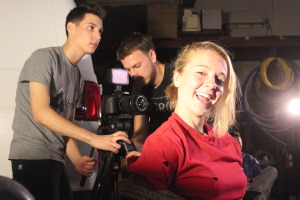 (Josh Zanni operating camera)
With the miracles of today's digital technology, filmmaking has become an easier craft to pursue than in previous decades with the use of camcorders, computer editing systems, and social media. People of all ages have gotten enabled to these prospects including Josh Zanni who was intrigued with making movies at an early age. In passing years his older brother, Adam Franco, taught him the ropes of filmmaking when he was just a kid. Adam would show Josh how to work their family camcorder and how to move clips around on the computer; he's never lost interest in the process since that time. "I would figure things out by trial and error and watch tutorials online." Says Josh, "I suppose that makes me 'semi-self taught' and I continue to learn new techniques and software all the time."
Josh particularly became inspired by the works of film directors Sam Raimi and James Wan while growing up which helped trail his own vision to making a movie version of Last of Us. Last year before the video game was released Josh heard what the story was about and loved the idea of it. He did a little research on what the developers had released at that time and started writing his own version of the story. The characters in his film version were based off those in the video game but did have their differences. "The story is completely different from the video game." Says Josh, "In fact even after the game was released I promised myself I wouldn't play it until my film was finished. I didn't want the game to change the vision I had already created. I had a general outline in my head, so one night I just sat down and wrote the whole thing start to finish until early morning. But, of course I made lots of edits afterwards."
After finishing the script, Josh noticed how other filmmakers got their projects funded on websites such as Kickstarter and Indiegogo. Wanting to try the same route, he came up with a budget of $1,000 for the movie and released a campaign on Kickstarter. During the first week about $250 was raised for the movie and throughout the month it steadily rose ending up making $25 more than the goal after 31 days.
The actors in the movie were mostly made up of Josh's family and friends and he made sure each of them was capable of playing their part well. Last of Us was shot in Providence and Coventry Rhode Island with Josh directing, his brother Adam, and producer / actor Jake Lafond helping out with the crew aspects of filmmaking. More than one camera was on set and they also had lights and mics used for most of the shots. "Being a 17 year old director is not an easy gig." Says Josh, "Most of the cast and crew on set were older than I was, so whenever someone had disagreements with me it was tough to take control as a director sometimes; no one wants to listen to someone 10 years younger than them." Despite being under estimated by his age at some points, Josh had the essential passion and drive to see the filming process of his movie through.
Adobe Premiere Pro was used to edit Last of Us and post production went surprisingly smooth as Josh edited the entire movie by himself in his house and also made DVD copies of the movie. On April 10th of this year the movie was premiered at Providence Career and Technical Academy having over one hundred people attend the screening. Currently Josh is in pre-production of a new film project titled, "The Who". It's a Thriller/Drama Series about a crime investigation, with a secret that will leave the audience stumped and in awe. The Kickstarter page for "The Who" is active until November 16th, backers will receive rewards for their generosity and support.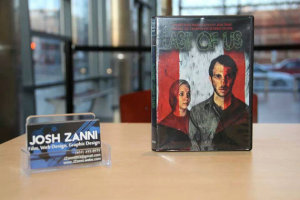 Last of Us is available for you to watch this Halloween and to make a purchase you can visit Josh's website Out Of Oblivion Studios.
"Last of Us can be categorized as many things, action, horror, drama, thriller, you name it. It has a bit of everything, even a few laughs. Whether they shiver with fear or are on the edge of their seat is up to how they interpret the film. By the end of the film, I just hope they enjoyed it!" – Josh Zanni