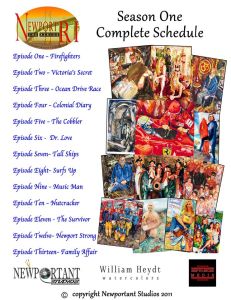 This coming Saturday September 27th, Newport RI The Series will be having its official premier at The Casino Theatre located within the downtown region of Newport, Rhode Island. This free event welcomes the public to watch a fascinating new show upon the big screen at 7PM as audience members get the chance to see Tom C. Erb bring to life the work of William Heydt's paintings. Local journalist Tim Sullivan writes articles about the noted region of Newport, Rhode Island for the paper he works for, taking it in as a everyday job. When he meets world renowned painter, Richard Davenport, Tim becomes greatly admired with the artist's highly skilled craftsmanship that is put into each and everyone of his beautiful paintings. A partnership is formed and together they set off to fully articulate the people in their community through writing and painting, making them stand the test of time in this glorious New England City.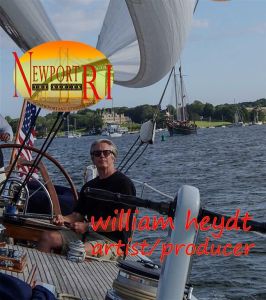 Richard Davenport is a fictional character based off of real life painter William Heydt. He first began painting his family, mostly using his kids, as the main subject of the artist's early portraits. After being in their house time and time again, William decided to take his family to different parts of Newport incorporating the city's familiar and historic settings as background scenery for the paintings he would create of his children. As time went on the painter then came up with the notion of brushing down the lives of people within his community into his work; asking residents he knew to take some time and pose for a painting. Over the years William has ended up creating a greatly selective gallery of Newport's community members into his work, referring the collection as "Newportant People".
Tom C. Erb was an actor, producer, and director who had first met William Heydt in 2006 when he was hosting a radio show called "Newport Art Scene Radio Hour". One of Tom's guest was Heydt's son Eric, and he asked if his father could come in to the studio and take some pictures. William entered the studio and ended up taking close to a hundred pictures, making Tom figure out that he was an artist. After a year or so William contacted Tom and said he had a copy of his painting he wanted to give him. Tom was surprised because he didn't understand that his pictures become his art. William informed Tom that he was going to hang his painting in an art exhibit at the Newport Art Museum and asked him to come and see it. This exhibit was called the "Newportant People" show and Tom was blown away by not just his vibrant beautiful painting, but  the rest of the people who William had brilliantly conceived into portraits, there were so many to see and admire. It was during this exhibit that Tom had the idea of each painting containing a dramatic story, which evolved into a gallery of episodes for a television series.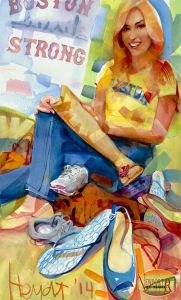 With an extensive amount of portraits to choose from for the show, Tom carefully selected the ones he felt would stand out great as episodes. "Since there were so many I wanted to do a cross section of the community represented in season one." Says Tom,  "As I was formulating the plan it was obvious that we needed to have some current paintings so that we were up to date, this is why the series commissioned Heydt to do a stage portrait of Richard Hatch and Heather Abbott and those two help complete Season One." The episodes are fictional stories that incorporate unrecognizable comparisons to the real people who were painted in William's work. Tom had come up with dramatic plots for each episode and had writers work out the stories into completed screenplays.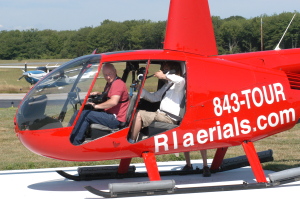 As Tom got stories assembled from writers for each of the episodes he began seeking out actors, other producers, and crew members who would be committed to his show. "Finding people to follow this series has been easy because I made sure I spoke to everyone one on one personally,  I felt that it was important to share the dream and concept." Says Tom, "So right from the first casting call to last pilot filming each person was in it completely because it was a unique concept that was worthy of their time and talents." Four producers supervised the production having over 30 sag actors and another 40 non-union actors to perform their roles with 15 professional crew members helping out with the filming process. This epic story about one artist, one journalist, and the people of Newport turned out to be quite an undertaking. Shooting had occurred all throughout the historic city including helicopter shots to get stunning scenery of the area.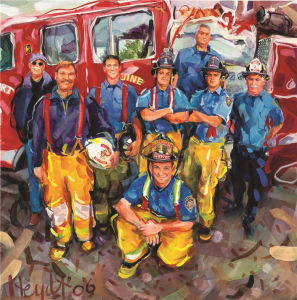 Newport RI's pilot episode is titled "Firefighters"; the "brotherhood" formed between firefighters cannot be any tighter than at Fire Station 101 in Newport.  This is because the firemen ARE an actual family. The Maguire family is headed by James "Tug" Maguire and his three sons, Steven, Daniel and Davey.  Sadly, tragedy strikes when the youngest, Davey, is killed serving his country as a marine in Afghanistan.  This now leaves the rest of the family to take care of Davey's wife, Shawna, and their infant child Ryan.  This proves to be particularly difficult for Daniel, who used to date Shawna when they were in high school, and still has very strong feelings for her.  Slowly, Daniel and Shawna become close again and both are unsure about how to proceed with their relationship.
http://www.youtube.com/watch?v=fC9XYxGOhvg?list=UU9VclCzof4SqslDrRyfGhhQ&w=854&h=510]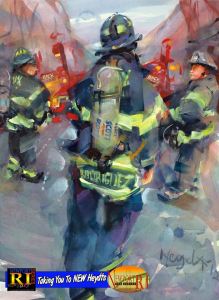 Season two has been discussed for possible production but at this point Tom and his team are working hard to get season one started, as well as keeping the Heydt paintings coming to make the second season current. This Saturday come and watch Newport RI Season's premier at The Casino Theatre where you'll see world renowned artist Richard Davenport painting a community.
"The series will be the experiences of the people of Newport and how they live and work in this New England City by the Sea. I would like them to experience art in its purest form and the passion behind it and the desire of an artist to share not only his art but his community." -Tom C. Erb
To find out more about the show you can visit their website and like their facebook page.
 http://www.youtube.com/watch?v=-7jBOMVWQg8&w=492&h=277]