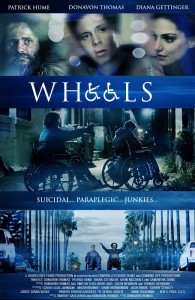 Wheels is a brand new movie that is being produced by Loaded Dice Films. Donavon Thomas wrote the script, co-directed it with filmmaker Tim Gagliardo, and plays as Mickey Cole in the leading role. The movie also features Patrick Hume who portrays Drake Jones, Diana Gettinger as Janet, Irina Costa as Lisa, and Kevin McCorkle who plays Allan Cole. Mickey Cole uses a wheel chair and feels his life has been confined into an embittering scenario which he can no longer bear. Being troubled by his darkened past and finding no hope within the future, Mickey makes the decision of wanting to leave the earth and putting an end to his own livelihood. After undergoing failed suicide attempts he comes across Drake Jones who is also a man in a wheel chair that is disgruntled with his own passing turmoils. Together they forge a bond attempting to travel through their challenging lifestyle and to also make peace with their grieving past.
The script for Wheels was written by Donovan Thomas when he was twenty years old while having difficulties with living the life of a starving artist in Los Angeles. Thomas knew that he wanted to construct a tale which touched upon issues that people don't like discussing such as trauma, suicide, and drug addiction. There were some people that Donavon knew personally who used wheel chairs and noticed the ones who showed discouragement were only limited by anything other than their own personal inner demon. Taking that factor with consideration lead to the development of Drake Jone's character in the script who shows Mickey that he really can do anything.
But with the darker aspects of the film, reflections with Donavon's own share of loneliness and depression during his early days of living in California helped guide the creation of the story. "I feel like depression is something that everyone deals with on some level or another." Says Donavon, "The suicide aspect, I do have some experience with that as well. I think it's something that people often are uncomfortable to talk about, because a fear of being judged or perceived as crazy. Thinking about death is something that I do at times, I am not ashamed about it. In the film these are people trying to figure it out, just like everyone else does."  Over the years the script ended up evolving into a satisfying product for Thomas and felt it was ready to get made into a movie.
Donavon was very eager to have Tim Gagliardo help him out with making Wheels who also had suffered from depression in the past. The script was given to Tim and Donavon told him his plans in making the movie. "When he told me that he was going to Produce, Star, and Direct, I told him that too many hats would reduce the quality of the film." says Tim, "We both had it in mind that we wanted to make the best film possible.  So, Donavon offered me to co-direct/produce with him, so he could give his all when on camera." Later on into the production Donavon had felt very fortunate to have taken Tim's advice.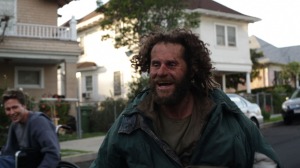 Patrick Hume was an actor who worked with Donavon and Tim in a previous film called Nuclear. After being inspired by Peter O'Toole's performance in Lawrence of Arabia, Patrick took up acting professionally and particularly likes creating characters that explore the human condition. "After my first read of the script, I already knew Patrick would be perfect for the role of Drake." Says Tim, "I don't think it ever crossed our minds to cast anyone else.  Stars included." Once Patrick started reading lines for the role of Drake, Donavon and Tim felt that he clearly embodied the role of this character.
During pre-production, Donavon and Tim worked very closely together making every decision as a team. Once shooting began, there was a dividing split with their responsibilities. "We were both in sync so much, that we could each deal with separate issues at the same time and knew exactly what decisions were being made by the other." Says Tim, "While Donavon was on camera, I would take the reins during takes, and then he would watch playback and give notes as well."
There's a collection of stories to tell while Wheels was being shot in Los Angeles; Patrick Hume broke his own finger nails with pliers to give his character an authentic homeless person look while Donavon dropped fifty three pounds to be a convincing heroin addict. Both of them spent time living on Skid Row in downtown LA to prepare for their roles. A french actress was originally cast as Wheel's leading lady and discovered that she was pregnant just before shooting started; but production went ahead without her telling any of the filmmakers. Early into the filming process she decided to fly back to France for the health care and left the project, making the production team to quickly find another actress for the part. "One time, Patrick and I were doing the alley scene and 2 LAPD officers approached us." Says Donavon, "I thought oh no, we are going to get shut down. They went up to Patrick and started questioning him and ripped his box hut down. It turned out that they had been watching us and thought we were shooting a documentary. We explained what was going on and they let us keep shooting."
After shooting was complete, editing the movie was an intense process. Post Production went on for months as Donavon and Tim did rough cuts of scenes with the editor. "Sergio Vizuete is a very talented editor and he was a tremendous force in the editing process." Says Tim, "If ever there was a disagreement between us, it was always in the light of we both wanted the film to be the best it could be, and Sergio was there to help us make it that way."
With Wheels being complete, a premier was held in Los Angeles September 19th and is now getting shown in theaters throughout California. Loaded Dice Films hopes to nationally release the movie in theaters and wants it brought to the attention of anyone who can take heart to these characters. Tim Gagliardo grew up by Lake Quinsigamond in Shrewsbury, MA and hopes to screen the film in Worcester specifically in the future. But it has to be taken one step at a time for now.
"From the start of development we had a goal that we would take the audience on a roller coaster ride.  We would make them laugh, and we would make them cry.  Hopefully the film will speak for itself in that regard." – Tim Gagliardo
To follow Wheel's progress you can like their facebook page, follow them on twitter, and check out Loaded Dice Film's Website.