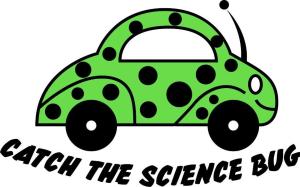 Kim Bent is the producer and host of Catch The Science Bug, a show devoted to inspiring kids to learn about the natural world around them and seeing what the field of science has to offer them. It airs periodically on PBS Rhode Island, being shown in parts of Connecticut, southern New Hampshire, parts of central Mass and eastern Massachusetts, and all of Rhode Island. Catch the Science Bug plans on releasing the episodes for downloads in the next six months. Profits raised from the sale of the downloads will be used by the foundation to produce more science and engineering content.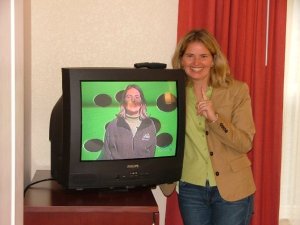 As a child, Kim was always drawn to science and math. She used to collect the science books that gave you experiments to do "at-home" and also loved the math workbooks that you could buy at the store and do them over the summer vacation. Some of Kim's early scientific activities that she did were making concoctions from things found in the medicine cabinet, collecting rocks, and even conducting an experiment by growing a plant with no light. It grew, but the plant was totally white. Being outdoors was always a pleasure for the young scientist, many of Kim's grade school reports were on various animals of the wild such as the red fox, dolphin, and koala bear. In seventh and eight grade Kim took part in the school's science fair in which her projects- optical illusions and tree grafting won second place each year.
As Kim grew up she got a job teaching high school science for two years which allowed her to become experienced in using more advanced equipment for the experiments she conducted in her science classroom – such equipment can be sourced online for various uses, be they educational or otherwise (see here: https://www.sciquip.co.uk/products/centrifuges.html). During this time the teacher had expressed to her friends that she had a desire to become a science newscaster focusing on environmental stories. Twice in one day, two people told her to take a course at Emerson College. As she looked through the course listing, Kim saw the perfect class entitled Performance for Television. In this course students would learn how to conduct themselves on camera and she immediately signed up for the class which was taught by Rex Trailer.
When Kim began the course she became aware of Trailer's noted career as the former host of the classic New England show Boomtown. She found him to be kind, encouraging, and very good at pulling out the best in a person in front of the camera. Several classes into the course Kim expressed her interest to Rex about wanting to become a science newscaster, and as her course of studies continued on, Rex later told her that she had what it takes to host her own children's science television program. Kim became awestruck with what her professor had told her. "It was like a high school football coach telling the quarterback that they could be the next Tom Brady," Said Kim, "I was thrilled with that idea but also wondering if I could really do it."
As time progressed, Kim had come up with the idea of Catch The Science Bug and Rex happily served as a mentor for her. A long succession of trial and errors had occurred through the process of trying to get her show created, and with a lot groundwork being done, Kim decided to stick it out for awhile before some progress got around to getting an episode created. Catch the Science Bug's pilot episode was filmed at Quabbin Reservoir to teach about drinking water, the Spirit of Boston, a dinner cruise ship to demonstrate the principal of flotation, and at the Stone Zoo to learn more about polar bears. This segment featured Major the polar bear, a famous long time resident of the zoo. Rex had supervised Kim's process with finding material, developing a script, preparing for a shoot, and editing a completed episode. Kim's dream had finally come true once the pilot got aired on PBS Rhode Island.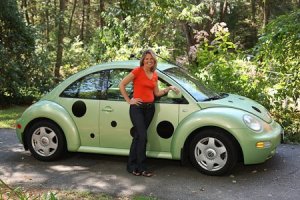 Getting the Volkswagen Beetle happened during the early process of developing the pilot. One night Kim and her husband walked into the DCU Center to see an Ice Cats game, he mentioned that they needed a new car. So as the game was underway Kim's attention was focused on all the kids chasing the mascot, Scratch, the big blue cat. She thought to herself that the science show needed a mascot, kids love mascots. A few moments later the thought struck her, get a Volkswagen Beetle, put spots on it and call the show Catch the Science Bug– with the car being named Science Bug.
Originally Kim thought the car would be red to mimic a lady bug and that she and her husband would rent it. But they needed a new car and Kim saw the green Volkswagen and fell in love with it. Ironically, there is a green beetle with black spots that is called the 12-spotted cucumber beetle, not that she knew that at the time. At first Kim felt self-conscious about driving around with the spots on when she was not working, but over the years so many kids and some adults have said "I love your car" to her that she doesn't even think about it anymore. Recently someone left Kim a yellow post-it note on the Science Bug while she was doing a program at the Leominster Library that read "Your car is awesome."
[youtube http://www.youtube.com/watch?v=tNQvi6dzVHM&w=854&h=510]
With the show's humble beginnings Kim would go around locations setting up the camera by herself, start recording, then run in front of the camera to host Catch The Science Bug. Since that time she now works with a small film crew to help with the technical aspects.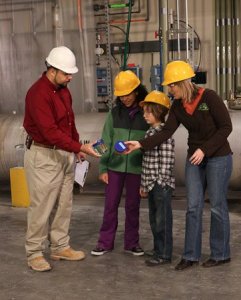 The series has gone through many experiences for kids to find out more about science such as investigating the circumference of a pumpkin, exploring a vernal pool, caring for new born puppies, learning about solar panels, measuring the age of trees, and so much more. With Kim being the mastermind of Catch The Science Bug she chooses content from what she feels is interesting, suggestions that people make, or something that just happens to encounter her life. "Each episode has something unique to offer," says Kim, "I love working on each one from the planning, to the scripting, the practice, the filming, and the editing. I have to say I do love it when something unexpected happens whether it be a reaction from a child, a mishap, a comment, or a laugh that fits the script perfectly although it was never planned in advanced." Children have the opportunity of seeing different environments and creatures through each episode including Winter The Dolphin who has also been the subject in the movie Dolphin Tale and Dolphin Tale 2 is now in theaters to see.
[youtube http://www.youtube.com/watch?v=xpWp17klwaI&w=640&h=390]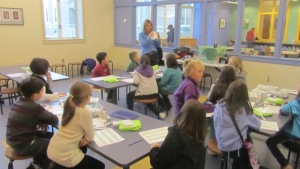 Kim spends most of her days continuing to be a teacher of science with her special program for children in schools, libraries and scouting groups. Her courses offer 45 different science and engineering programs which include subjects such as germs, engineering a formula for home-made putty, testing the chemistry of drinking water, and much more. Each program is geared towards selected grades. There are programs for children in grades Pre K-8. She has traveled as far north as southern New Hampshire and as far south as New Jersey, but primarily teaches in Massachusetts. "One place that was special to be able to teach at was last year we were hired by Walden Pond to lead a workshop in hydrology. The children got to test the pond water after learning about the pond's ecosystem and that was something they loved doing," Said Kim. With local projects Kim is continuing to collaborate with Rainbow Child Development Center who she has worked with for two years now going on for a third year. To find out more about Kim's science programs you can go to the Catch The Science Bug Website.
Catch The Science Bug has produced nine episodes and they have won a Silver Choice Parents Award. Episode 10 is currently in production. Part of which was filmed at Alden Research Laboratories in Holden, MA. The episode is about hydrokinetic turbines which can be used to produce electricity in fluvial or tidal areas without the use of dams because the turbines are mounted underwater. Alden has a flume, which is a structure that mimics a river channel and has shown that the turbines and fish can coexist without harm to the fish.
Episode 11 is also currently being planned with the Institute of Heartmath, a nonprofit in Boulder Creek, CA. It will be about the science of the heart and how the rhythm of your heart affects your brain, body, and emotions. When you learn to regulate your heart rhythm, you can positively affect your body and change your emotional state for the better. The Institute of Heartmath has researched this subject for many years. At this time the show is currently looking for sponsors. As part of this project they will have a kit to offer to schools and parents as well. This is very exciting work since once children understand how to better manage their emotional state, it has been proven to lead to better grades. Kim is also creating an iBook about finding fossilized shark's teeth on the eastern coast of Florida.
With all these projects being underway Kim finds media and technology to be a great source for kids to get exposed to. "Media is an amazing teaching tool and it can make learning science much easier and more interesting." Says Kim, "Today's digital media allows you to present so much information in a very efficient and effective manner. You can recreate something on video that the viewer can not experience in everyday environment."
[youtube http://www.youtube.com/watch?v=fXkSrd2rvyM&w=854&h=510]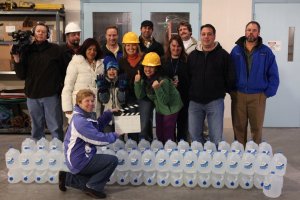 "It was a joy to be part of the video production team on the episodes I've been fortunate enough to work on." Says crew member Blair Cole, "Kim has a special way of engaging the children. It's amazing to see how readily they grasp the science concepts she is teaching." Kim Bent always presents fascinating elements of science in her show and continues the amazing quest of sharing knowledge with children.
"It is fun to learn and do new things so I hope that the episodes bring joy to the children who watch them. I hope they spark an interest in the content matter being taught and I hope they motivate the viewers to try some of the suggested science and engineering activities to learn and do more- thus creating life long learners!" – Kim Bent
To find out more about Catch The Science Bug and Kim's Science courses you can visit her website and facebook page.
[youtube http://www.youtube.com/watch?v=nAiG-mh_sYk&w=854&h=510]