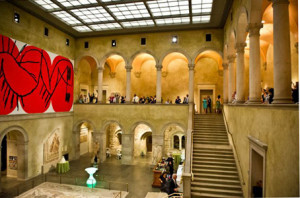 WOOSTAH is my hometown. I got to grow up in a huge Italian family, seven siblings and 26 first cousins, most of whom lived in the same area. My dad, Robert VanLiew, taught instrumental music at Forest Grove Jr. High – and my mom, Fran (Vicalvi) VanLiew, was the librarian at Worc. Vocational Tech School. My mom and dad hosted most of the family gatherings because we lived in a three story home on Westland Street (where Park Avenue crosses Highland Street). The tree lined street provided an idyllic neighborhood to roller skate and dream in.
Worcester Art Museum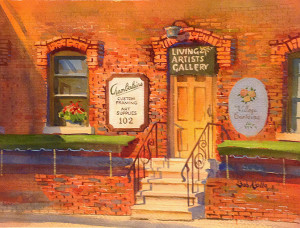 102 Grove Street
I was lucky to attend the then brand new Doherty High School. I could easily walk there because it was right up on Highland Street. I went on to attend the School of the Worcester Art Museum (sad to say it is closed now). After Art School, I worked five years for an ad agency – before going out on my own. I had a spectacular office on Park Avenue – how cool is that. I moved to Grove street when I bought Chamberlain's Framing and opened the Living Artists Gallery inside it.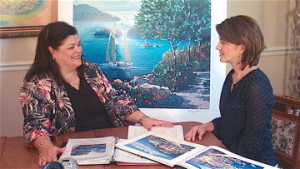 Then boom – I fell in love with Dr. Alan Brewster – and I moved into his 150 year old Greek Revival mansion on South Street in Grafton. I became semi-retired to raise our three spectacular girls. I spent 22 wonderful years going back and forth between Grafton and Worcester when I bought Norback's Framing on Park Avenue and re-opened my Living Artists Gallery. I also started selling artwork online at www.Living-Artists.com. I have been selling ART online ever since
In 2002 I moved with my three girls to Orlando. I had lost my fabulous husband and needed a BIG change. I chose Orlando because it has families, amusement parks and year round fun weather. All three of my girls earned free college tuition because of a program called "bright futures" here in Florida. They did so well in public school because they had attended Assumption (in Millbury) and St. Peter-Marion private schools before we moved. Proud mamma mio, I have a Video Specialist, an Elementary School Teacher and an Emergency Nurse (and going back to Medical School-yay). My girls and I visit Worcester regularly because flying JetBlue is so very convenient.
I just finished attending Valencia College for three years where I earned my A.S in Paralegal studies. A painting course I took along the way reminded me how much I love to be creative – as well as sell other artist's creations. Rather than feel threatened by computers, I embrace the new technologies. I represent several artists and make Giclee reprints of their paintings as well as selling their original art.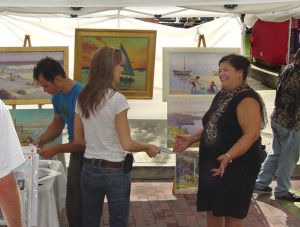 Baldwin Park Art Fest
I have found a large art community here in Orlando. Florida has more outdoor art festivals than any other state. I have done my share of tent selling – but I do not love the long hours. With the economy recovering – people seem willing to again purchase their favorite art online, to embellish their homes and offices. Fine art always adds to life!!
In the future I will be featuring several of my Worcester Scene prints – and their backstory. I live in Florida now but I will always be a Woostah girl.