Auburn native, Kathleen Meyer,  is making her professional theatre debut this week in the ensemble of Reagle Theatre's production of Singin' In The Rain.    Kathleen Meyer, age 17, has acted in numerous local theatre companies, including: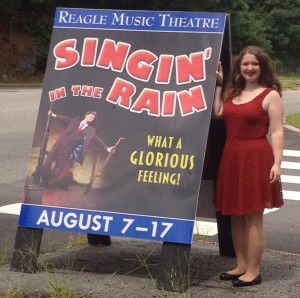 Auburn Community Players
Performing Arts Center (PAC) of MetroWest
Stageloft Theatre in Sturbridge
River's Edge Arts Alliance.
Kathleen is a Senior at Hudson High School, attending through the state's school choice program, so she can participate in their numerous theatre courses, performances and acapella group.   In addition, she has taken voice lessons with Silvia Irving at Pakachoag Music School of Greater Worcester and the Boston Conservatory Vocal-Choral Intensive. Her favorite roles have been Lucy Van Pelt in You're a Good Man, Charlie Brown (Auburn Community Players), Amy Lee in Godspell (Hudson High), and The Baker's Wife in Into the Woods (PAC and Hudson High). She is looking forward to attending a musical theatre conservatory for college.
Reagle Music Theatre of Greater Boston's production of Singin' In The Rain, will run from Aug. 7-17 at Robinson Theatre, 617 Lexington St., Waltham. And yes, it will really rain on stage. Good luck Kathleen.
Didn't believe us when we said it REALLY rains on stage? See for yourself, beginning tomorrow!… http://t.co/aASytvvsFs

— Reagle Music Theatre (@ReagleMusicThtr) August 6, 2014