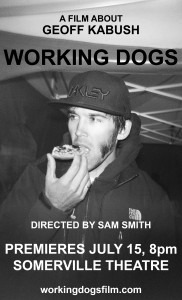 If you got an open schedule this coming Tuesday on the fifteenth make your way to the Somerville Theatre in Davis Square and see the documentary "Working Dogs" a new film produced and directed by Sam Smith. Tickets are ten dollars per person and the movie will appear on the big screen at 8PM. If you're not able to attend the actual screening you also have the option of having a worldwide premiere on your computer screen via digital download.
Mafia: local #filmmaker @SamWileyS doc @WorkingDogsFilm premieres Thurs 7/15 @svilletheatre. Home grown soundtrack 2 http://t.co/e75F2hV01B

— Boston Indie Mafia (@BosIndieMafia) July 11, 2014
Geoff Kabush grew up a distinctly methodical and somewhat obsessive kid in Courtenay, British Columbia. Being in an active and outdoors oriented family, he focused that energy on mountain biking when he was in his teens. Over the next 20 years he progressed into one of the best cross country mountain bikers in the world. Coming off his most successful season to date, he went into the 2010 racing seasonlooking for a result at the biggest race of his career: the World Championships in Quebec City. When the big weekend arrived, it became not just bike racing as usual. Geoff met some new friends in the form of a pack of sled dogs.
Working Dogs is an account of the way an elite athlete lives his life, but also a glimpse into the psyche and dynamic of a sled dog pack – two unique species that each have their own unwavering drive.
Sam Smith was born and raised in New Jersey and then went off to study at Fitchburg State University. He became an employee at Rule Boston Camera for several years and after that branched off into documentary film making. Bike racing has always been a particular subject that Sam enjoys covering and has done so for many years. With being around the bike scene for an extensive period of time Sam finally ran into Geoff Kabush around 2004 and the two of them became good friends. In 2007 Geoff and Sam decided to go to a race in Quebec just to hang out and have fun. It was during this trip when Sam's imagination first came up with the idea of Working Dogs and couldn't let go of the idea. After a couple of years of thinking about this project Sam started shooting footage for the movie in 2010.
Working Dogs is set in several parts of the world. Some scenes were shot in England and Belgium, and other parts were filmed in Vancouver, British Columbia, and a small island called Hornby Island which is located in the Strait of Georgia. With these various locations that were included in the film extended travelling was done to go from place to place. One incident that occurred was when the crew was traveling to Vancouver with a Giant Gyro Camera Stabilizer. "It's a massive and heavy piece of equipment that comes in two pieces." says Sam Smith "When we tried to check it on the plane they wouldn't let us because it was over the 100 lb weight limit. We took one of the pieces out of the case to get it under 100 lb, then had the other piece as a carry on. So we were going through security, boarding planes, and sitting around at lay overs with this giant black hunk of metal that had cables dangling out of it. It's fun to laugh about now, but at the time it was very nerve wracking and stressful."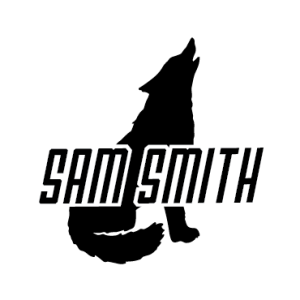 Another very challenging factor was filming the dogs during the winter. The filmmakers were given an incredible amount of generosity from the owner of the sled dog company that they shot at. But since regular business hours and prime time season was underway at the sled dog company the crew was given a limited amount of time to get their footage.  To top that off temperatures remained at zero degrees fahrenheit throughout the entire day and the crew's camera batteries were dying every ten minutes . They ended up sticking the batteries down their pants (between their snow pants and regular pants folks) to warm them back up and get another ten minutes of life out of the batteries. Despite the hectic nature of the shoot  the filmmakers thought it was incredible to be among the energy of a sled dog pack.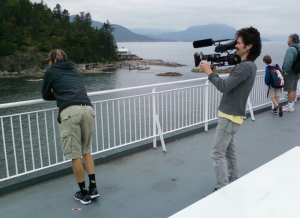 An open mind always has to be enabled when it comes to documentary film making. Shooting bike racing sequences varies on what type of race it is and what resources the crew has at their disposal. One person can be shooting in a team car that rides behind the race and another person can be hoofing it around the course getting action shots of the race. There's a race in Working Dogs where Sam and two other shooters are hiking around a ski mountain to get a variety of shots of the intense mountain bike terrain. "Bike racing is very unpredictable" says Sam "I like to be very malleable as a filmmaker and take that risk of being in the moment and trusting myself to make decisions on the fly."
Working Dogs has been edited on and off in a period of three and a half years and will soon be delivered into the hands of the audience.
"I hope people will be exhilarated, relaxed, and entertained" says Sam  "I hope people will appreciate an unconventional take on the sports documentary form."
To get tickets or your digital download you can go to Sam's website.