Editor's note: Could this have something to do with the purchases by the WBDC on McKeon Road in Quinsigamond Village??  Links to stories below.  
McKeon road, Worcester, Mass – Road work is currently in progress.
The road construction is taking place near the College of the Holy Cross. The campus is located at 1 College St, Worcester, Mass; near Mckeon Road.  While road work may prove to be inconvenient at times, all of the changes are being made for the safety of Worcester residents. Improvements that are six years in the making.
Ellen Ryder, the Chief Marketing and Communications Officer, for the College of the Holy Cross, released this statement to the Worcester Herald: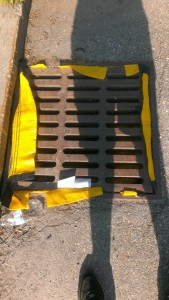 "In 2008, the City of Worcester was the recipient of federal funding to make pedestrian and traffic safety improvements along McKeon Road.  That project is now getting underway…. The State of Massachusetts, City of Worcester, and [the College of the] Holy Cross are working together on the project."
The construction is  overseen by all three groups, because of its location. "McKeon Road is a city street. [the College of the] Holy Cross owns some of the property adjacent to the street; that's why state, city and college are working together on these improvements," said Ryder.
While the purpose for the construction was easily disclosed, one big question was harder to answer. Why is the drain sealed with yellow tarp?
After a few dead ends the Worcester Herald contacted John F. Hill, the Communications Specialist for the City of Worcester. Hill was able to get in touch with Worcester Department of Public Works (DPW) Commissioner, Paul Moosey, for us.
Moosey released this statement: "This [referring to the picture of the tarp and drain] is a silt trap. It is designed to capture silts and sands from getting into the catch basin, and ultimately into the resource that the system drains to. These are used around construction sites where exposed soils may wash into streets."
No secret mystery at all. Just precaution. The safety of the Worcester people and the construction site are both taken into account.
If you want to read more work by Katelyn Avery please view her archived articles, or visit her blog.