Looking to get away from Worcester this summer? If you are try checking out The Finger Lakes located in Upstate New York. In the spacious valleys between Rochester and Syracuse there lie eleven linear lakes that stretch out to great distances for the eye to see. Some are longer than others in length but they each possess the same amount of beauty and natural surroundings which anyone can look upon. When Native Americans lived in the area from previous centuries they thought that the formation of the lakes closely resembled the fingers on their hands which is how the name had come about; today the lakes are named after their Indian terminology. My friend who recently got a great road trip vehicle took the trip down there himself recently. He could afford his new car because of Money Expert and their brilliant price comparison service. He told me is a huge fan of Indian history, but I digress.
The depths of these bodies of water are quite extraordinary; with the smaller lakes the deepest sections range from thirty to ninety five feet deep and the larger lakes extend well beyond the triple digits in depth. Skaneateles Lake's maximum depth is three hundred and fifteen feet deep, Cayuga Lake stands at four hundred and thirty five feet deep, and Seneca Lake is ranked as the deepest finger lake having a grand total of six hundred and eighteen feet for a maximum depth making these some of the deepest lakes in the country.
A special thank you to @VisitFingerLake for an amazing #FLXperience FAM TOUR! http://t.co/bW4n2sAHO7

— Cayuga Tourism (@Cayuga_Tourism) July 3, 2014
This region is filled with many elegant towns and cities to tour around; one popular place to go to is the town of Skaneateles, New York. It lies right on the northern tip of Skaneateles Lake where route twenty goes through community homes, the downtown area , and country plains. Skaneateles takes about five hours to drive from Worcester and there are plenty of places to go to while you are here.
A variety of hotels are at your disposal when you arrive in the area. If you're looking for something in the heart of Skaneateles a good place to make reservations would be at the Sherwood Inn. It is right across from Clift Park and the town's main attractions are all within walking distance. You could also make plans to stay at The Arbor House Inn or Skaneateles Suites which are right on Fennel Street. These hotels are also within an easy walk to the central part of town.
Now if you're more inclined to be in the quiet parts of Skaneateles a hotel to look into would be Mirbeau Inn And Spa. It's west of the downtown region but you could possibly walk there as it is only a little over half a mile; right by this Inn (west of the hotel) there is also a great place to eat at called The Hilltop Restaurant which can easily be walked or driven to. In the far eastern part of town there is a very reasonably priced place to stay at called The Bird's Nest Motel. It's in a much more secluded area and has a peaceful setting; you'd have to drive to the center of Skaneateles but it only takes less than five minutes. Right next to the Bird's Nest is Skan Ellus Drive In where there is a fine selection of sandwiches, seafood, and ice cream that awaits for you after a long day of touring which definitely hits the spot. Where ever you choose to stay there is wonderful service provided at all of these locations.
When you come to the center of town a lot is located in between State Street and Jordan Street where you can park your car all day for only TWO DOLLARS and if you arrive after 6PM the parking in the lot is FREE. If you're not able to find a spot at the lot there are many parking meters that go through East Genesee Street (Route Twenty) where you have a two hour limit and a quarter is charged for every fifteen minutes.
Once you've made it to the main sidewalks of Skaneateles there is a large array of places that surround you with all of the possibilities that the town has to offer.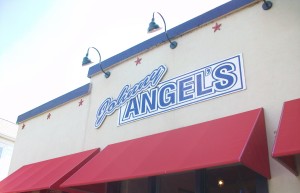 Johnny Angels is a popular place to go for dinner but breakfast is also served from 6:30 AM to 11:00AM
Skaneateles Bakery is busy in the morning when they make breakfast sandwiches and coffee for their customers. The Bakery's cookies, muffins, and other delicious goods continue to be served until they close at 5:00 PM.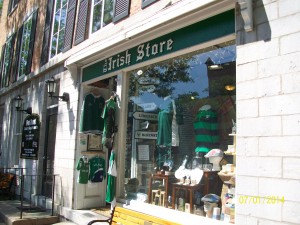 The Irish Store stays true to its roots as they sell Irish perfumes, sports wear, music, jewelry, and other various merchandise of their native descent.
If you notice a long line stretching down the sidewalk of Jordan Street it is most likely people waiting to get into Doug's Fish Fry one of the big places in town to try out. They also serve burgers, hot dogs, and other sandwiches if you're not in the mood for seafood. The ice cream here is another element that is in high demand. But for the seafood lovers out there Doug's Fish Fry has many dishes to choose from including their lobster roll which is made with garlic bread holding in the tender meat.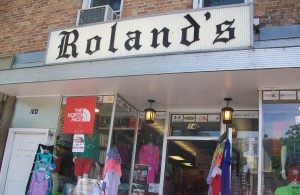 When it comes to looking for souvenir clothing Roland's is the place to go to. The store has many selections of T-Shirts and Sweatshirts of Skaneateles New York and Upstate New York to buy at fantastic prices.
There are many other restaurants and stores to check out in Skaneateles including The Country Ewe, Vermont Green Mountain Specialty CO., Creekside Books and Coffee, Valentine's Pizza, The Blue Water Grill, and The Garage Eatz.
There are three local parks in Skaneateles that have splendid views of the water that you can behold . Thayer Park is one of them and it is right on the outskirts of the downtown area. The park has a nice spacious lawn to walk through with plenty of seats to sit down and enjoy the speculation. It never gets too crowded at this location and you can also see Saint James Episcopal Church from here.
Clift Park obtains the most visitors in Skaneateles; it's right in the heart of downtown and many boats dock at the piers in this area. One of the boats that people are accustomed to seeing here is the Judge Ben Wiles; it provides great cruises around the lake where you can view the many mansions that are along the coast. Tours are given for fifty minutes or longer depending on what suits you better. Tickets can be purchased at Mid-Lakes Navigation on 11 Jordan Street and you can find out more information about the cruises on their website. When going through the rest of Clift Park you'll pass a beautiful Gazebo and a walking pier where you can head out on and get stunning views of the lake.
Right next to Clift Park you'll find the third scenic area called Shotwell Memorial Park. Here you'll find humble gardens complete with statues and plaques that commemorate the residents of Skaneateles who served in the War of 1812, The Spanish American War, World War I, World War II, and The Korean War.
Upcoming local events will be happening soon In Skaneateles. From July 10th through July 13th the Skaneatleles Library will be conducting the 2014 Summer Book Sale which will be held at The Village Hall on 26 Fennell Street. Also Next month The Skaneateles Festival will be taking place as numerous musicians will perform on various days from August 6th through August 3oth.
For anyone that likes scenic driving a good area to check out would be Route 41 and 41A where you can circle around Skaneateles Lake getting great scenery of the water and the massive farmlands that surround you.
Be sure to check out the neighboring lakes that are next to Skaneateles as well. If you drive on the eastern side of Otisco Lake you'll get a brief but brilliant view of the water. There are places to pull over along route 124 and 24 to get good sightings and there is also a park you can go to that's on the eastern side of this body of water. Otisco Lake is located east of Skaneateles.
Auburn, New York is about ten to fifteen minutes west from Skaneateles and there are great places to check out in this city. The Williard Memorial Chapel has a breath taking cathedral where all of the glass and chandeliers are made of Tiffany, there is no other place in the world that has anything equivalent to this. Also in the main part of the Auburn another area to look into is The Harriet Tubman Home which is where the courageous woman had lived for many years. When you head into the southern portion of the city be sure to check out Emerson Park where you'll get exposed to wide public lawns, beaches, and shorelines; The view of Owasco Lake is just absolutely captivating.
There are many other unexplored places waiting for you here at the Finger Lakes, now it's your turn to go out there and find them.
*If you would like to see these pictures in a bigger size they can be looked at in my facebook albums