On Thursday night I saw a tweet that Noodles an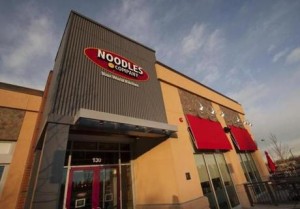 d Company  at White City in Shrewsbury on Route 9 was open, so I decided to check it out Friday afternoon.
First thing I noticed was how packed White City was!!  I had to go around the parking lot twice, before I could find a spot to park.  As I entered the restaurant, the place was as crowded as the parking lot and loud, with people talking and music playing.   As you walk down towards the register there are employees to great the arriving guests, hand out menus and answering any questions customers had.
Line out the door for the grand opening of Noodles & Company in #Shrewsbury pic.twitter.com/0vqEPBEdXI

— Mike Cronin Jr. (@mikecroninjr) April 30, 2014
I have been craving something spicy for a while, so I ordered the Indonesian peanut sauté.  Just going to say it was good. not too spicy.  It also had  broccoli, carrots, cabbage, Asian sprouts, cilantro, crushed peanuts and lime.  Normally I am not a veggie person but it all went down that day.  Also got a taste of the Japanese pan noodles I bought for a friend.  That had  broccoli, carrots, shiitake mushrooms, Asian sprouts, black sesame seeds and cilantro.
Both orders were large and I also ordered a small Wisconsin mac n cheese for a picky little eater, all together my order was around $17.  Good noodles, not a heavy meal, and I thought it was affordable. I will be back hopefully soon for more spicy noodles!!!  Check out their website and their menu.