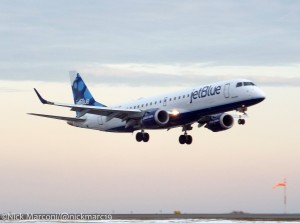 On April 30, JetBlue along with Cape Air became the only carriers operating out of Terminal C at Logan Airport underlining the airline's growth in the commonwealth. JetBlue acquired remaining gates in Terminal C as a result of United moving to a brand new concourse in Terminal B. JetBlue now operates 128 daily departures to 51 destinations out of Boston's Logan Airport with plans in place to grow to 150 daily departures or more in a plan called "BOS150".
The airline's growth in the commonwealth has been significant as JetBlue flies to Martha's Vineyard, Nantucket, and now Hyannis (all three seasonally) in addition to Worcester. On a given day during the summer JetBlue operates 5 daily flights into the three summer getaways: 1 flight into Martha's Vineyard from New York-JFK, 3 flights into Nantucket from Boston and New York-JFK, and 1 flight into Hyannis from New York-JFK.
There is a small growth potential for JetBlue on the Cape and Island's but Boston and Worcester will continue to grow for them. As stated, JetBlue is aiming for "BOS150" at Logan and Worcester's network could expand significantly if the community supports JetBlue here in the heart of the commonwealth. With the installation of a Category III ILS (Instrument Landing System) the reliability of flights will increase significantly and could allow for flights to hubs and business markets out of Worcester. Some potential routes JetBlue could add from ORH, once the new ILS is operational, are Tampa (one of the most popular destinations from New England), San Juan, and New York-JFK (allowing for connections all over their network).
For those I've seen asking for flights from ORH to Myrtle Beach and Punta Gorda, they aren't going to happen simply because JetBlue doesn't fly to either city. Myrtle Beach could see JetBlue flights down the road to New York-JFK and possibly Boston, but Worcester certainly wouldn't be linked there on JetBlue. A link to Myrtle Beach, however, could open up through Allegiant or Spirit if either carrier decides they want to fly into ORH. Punta Gorda will never see JetBlue flights because they already fly into Ft. Myers (25 miles to the south) and Sarasota/Bradenton (50 miles to the north).